Bye Bye Monaco, Hello Tokyo, Guest Hobbs Kessler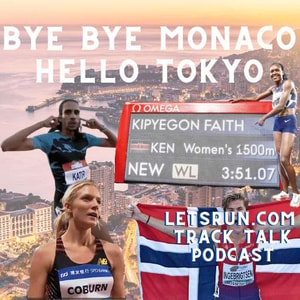 2 years ago
(Ad) Take advantage of the DrinkLMNT free offer. Get a free sample pack of DrinkLMNT with 6 different flavors for only $5 shipping. LetsRun.com co-founder Weldon Johnson will personally refund your $5 if you don't like this stuff. DrinkLMNT is electrolytes without the junk. No sugar, no artificial flavors, yet it tastes great. DrinkLMNT.com/letsrun
The Diamond League is on break until Tokyo and that means it is time for Olympic speculation.
Potato Tim and Nijel Amos are back in a big way, Kate Grace and Isaiah Harris won't be in Tokyo but they're winning Diamond Leagues, the Fake Josh Kerr has a lot to say, Usain Bolt runs an 800, is Rojo like Jerry Schumacher, and this week in social media with intern Karl, before an interview with Gatorade High School track athlete of the year and new adidas pro Hobbs Kessler at 86:51.
Show you are a true running insider and join the LetsRun.com Supporters Club. Get exclusive content, a bonus podcast every week, and annual members get a free LetsRun.com shirt. https://www.letsrun.com/subscribe
Show notes:
4:52 Fake Josh Kerr on England, Euros, and getting his On shoes
9:15 Monaco: Timothy Cheruiyot and Nijel Amos are baaack, Should Ingebrigtsen double?
25:30 Fake Josh Kerr on Chunky Josh Kerr
27:30 Faith Kipyegon 3:51 destruction of Sifan Hassan. Should Hassan still triple?
34:55 Will Emma Coburn ever break 9? Her Olympic chances
41:36 Isaiah Harris and Kate Grace win in Gateshead, Clayton Murphy fine and training through (Video) or in trouble?
52:15 Would you put Kate Grace on the Olympic team if you could?
55:51 Sadi Henderon 2:01 to 1:58
59:29 What explains Mohamed Katir's transformation? Katir is the most obvious doper of all time
66:34 This Week in Social Media with Intern Karl
70:03 Everyone complaining about Tokyo beds, lack of fans, opening ceremonies
77:25 Usain Bolt runs an 800
80:34 Rojo like Jerry Schumacher (from David Melly podcast)
86:51 Gatorade high school track athlete of the year and new adidas pro Hobbs Kessler
We want your feedback. Rate us on itunes and spread the word with one friend. There is a reason we're the #1 Olympic running podcast. Email podcast@letsrun.com or call 1-844-LETSRUN and hit option 7 to leave a private voicemail.
Check out the LetsRun.com store. https://shop.letsrun.com/
Send us your feedback online: https://pinecast.com/feedback/letsrun/0ff3b240-2caf-40d3-95a2-b920f84f84f2