NCAAs Are Here: Valby vs Tuohy, NAU vs Ok State, Siegel Renewed, Marathon Trials 10 am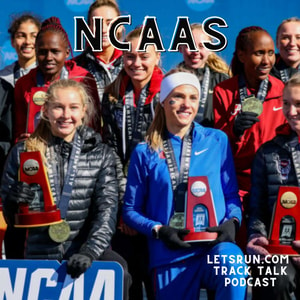 23 days ago
The NCAA XC Championships are Saturday in Virginia an we break them down. Who you got Parker Valby or Katelyn Tuohy? Can NAU win again or will Oklahoma State stop them? Can a 21-year-old American from Harvard, Graham Blanks, really win?
Play in our Nationals XC Prediction Contest Powered by Zappos here *And be sure to check out the running shoes and apparel on Zappos here
Plus USATF CEO Max Siegel got his contract renewed. Why is he still getting bonuses from the Nike contract signed in 2014?
Show notes: 0:00:00 Introduction
0:02:47 Rojo's Unfortunate Events
0:09:15 NCAA Cross Country Championships Sold Out
0:12:54 Defending Vin Lananna's accomplishments and addressing capacity issues
0:19:10 The Big Storylines at NCAA
019:42 Mike Smith / NAU Profile in The Athletic: Coaching Success and Mental Approach to Running - Big Profile in The Athletic
0:27:36 Foreigners, Flagstaff
0:30:56 Men's Team Title- NAU or Oklahoma State
0:48:04 Men's Individual Battle- Can Nico Young get it done or does a 21-year-old from Harvard, Graham Blanks, really have a shot.
0:52:38 History of American winners in NCAA cross country titles
0:57:50 Women's Battle: Parker Valby vs Katelyn Tuohy
1:01:44 Tangents and Tapering
1:05:12 Will Kaitlyn Tuohy make the 2024 Olympic Team?
1:13:33 Olympic Marathon Trials at 10 am
1:16:43 Max Seigel's contract extended through 2028 Olympics
1:25:16 Nike Deal Negotiations and Leadership Questions
1:34:22 Lack of transparency in Siegel's contract evaluation

Links: The Athletic article on NAU: Mystery in the aspens: How did a running dynasty take root

Rojo's video on Max Siegel's salary https://www.youtube.com/watch?v=wy1MYPFpkIc
Contact us: Email podcast@letsrun.com or call/text 1-844-LETSRUN podcast voicemail/text line.
Want a 2nd podcast every week? And savings on running shoes? Join our Supporters Club today and get all the LetsRun.com content, a second podcast every week, savings on running shoes, and a lot more. Cancel at anytime. https://www.letsrun.com/subscribe
Check out the LetsRun.com store. https://shop.letsrun.com/ We've got the softest running shirts in the business.
Thanks for listening. Please rate us on itunes and spread the word with a friend. There is a reason we're the #1 podcast dedicated to Olympic level running.