Dreams Become Reality, Craziness on the Track & Roads, Jacob Thomson (Guest)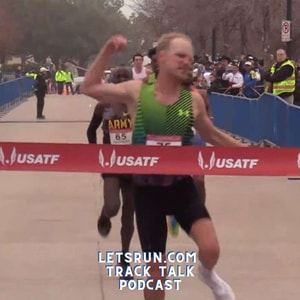 6 months ago
At the end of 2020, Jacob Thomson didn't have a sponsor but he packed his bags and made the drive to Flagstsaff. Now running for Under Armour Dark Skey, he's the US champion in the half marathon and has his eyes on the 2024 Olympics in the Marathon. He joins us at 90:04 in the Where Your Dreams Become Reality Segment.
Prior to that we break down the running world. There was craziness on the roads in Osaka, a great indoor meet in Birmingham, craziness in the college ranks, and we debate what should Katelyn Tuohy and the Washington men do at NCAAs, plus Molly Seidel raced a half two weeks before her Nagoya Marathon.
Want a 2nd podcast every week? Save 25% off 1st year you join Supporters Club with code CLUB25 Join our Supporters Club today and get all the LetsRun.com content, a second podcast every week, savings on running shoes, and a lot more. Cancel at anytime. https://www.letsrun.com/subscribe
05:45 10 Japanese go sub 2:10 at Osaka Marathon
15:06 Birmingham World Indoor Final - Neil Gourley British Record
19:37 Keely Hodgkinson is she really in WR shape?
24:58 Should we have world records for races with no watches or rabbits?
31:42 Crazy ACC action - baton dropped at end of 4x400, slow heat wins 5k, when should they rerun a race?
46:56 Katelyn Tuohy living up to the hype, what should she run at NCAAs?
57:28 World record watch for Julien Alfred? Talitha Diggs gets American record at 400
59:39 Washington could have 7 guys in the NCAA mile
01:11:34 Love for Henry Wynne
01:13:04 Cooper Teare miler or 5000m runner?
01:16:44 Sinclaire Johnson impresses in 3000
01:18:55 Us juniors had to cover Nike logo at World XC
01:22:23 Rojo gets the singlet back from Dan Michalski
01:23:55 US Half Marathon Champs Jacob Thomson gets first national title, Aliphine Tuliamuk wins, Molly Seidel?
01:30:43 Jacob Thomson - Where your dreams become reality segment: He packed his bags and moved to Flagstaff without a sponsor, now he's a national champion
01:31:35 Jacob's big win in Ft. Worth
01:36:47 His career till now
01:39:38 His online coaching
01:43:02 Doubling back at USATF 15k Champs
01:44:54 Olympic marathon Trials
01:46:42 Living the dream- moving to Flagstaff with no sponsor
01:48:02 Great recent success of Under Armour Dark Sky team
01:51:50 The future of USATF road championships
01:55:03 Fort Worth > Dallas
Contact us: Email podcast@letsrun.com or call/text 1-844-LETSRUN podcast voicemail/text line.
Check out the LetsRun.com store. https://shop.letsrun.com/ We've got the softest running shirts in the business.
Thanks for listening. Please rate us on itunes and spread the word with a friend. There is a reason we're the #1 podcast dedicated to Olympic level running.
Find out more at http://podcast.letsrun.com
Send us your feedback online: https://pinecast.com/feedback/letsrun/19a44334-dd3f-495e-98b8-02f0d82caadc
This podcast is powered by Pinecast.