NCAAs, Tuohy's Future, Dick Fosbury RIP, Sara Hall Returns, Kara Goucher Sexual Assault Allegations vs Alberto Salazar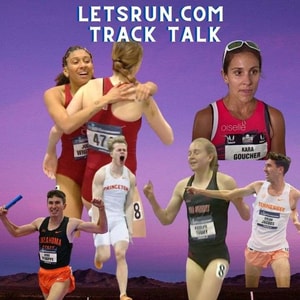 6 months ago
The 2023 indoor track season came to a close with the NCAA Championships (and the high school champs) in Albuquerque and Rojo and Jon were on hand to analyze Katelyn Tuohy's greatness and break it all down.
Road action heated up with $250k on the line in Nagoya, and Almaz Ayana and Sara Hall in action in Portugal.
Kara Goucher comes forward to say Alberto Salazar sexually assaulted her and she is the one who got him banned via SafeSport. *Her new book is here
Pioness Dick Fosbury has died and is Matthew Centrowitz on the way back?
Want a fulfilling career, giving back to the sport you love? (Sponsored) A Crazy Running franchise might be just what you need. Crazy Running provides unique, exceptional running programs for kids, specializing in after-school running programs for kids ages 3-14. Crazy Running started with one mom at one track in North Carolina and has now expanded to 5 states and is looking for passionate LetsRunners wanting to open a franchise. Donnie Cowart, 4th place at the 2012 Olympic Trials is a co-owner, and Crazy Running is the perfect job for people who love running. https://www.crazyrunning.com/franchise/
Show notes:
00:00 Crazy Running Franchise
03:08 NCAAs & ABQ
09:48 Should Tuohy go pro? Will she make the US team?
17:07 800 DQ Fair or Foul?
29:10 Email of Week / Update on Klecker being FURIOUS with Kincaid
32:30 Greatest runner to never win NCAAs?
34:42 Men's Mile - Luke Houser wins it & we remember the winners
44:54 Stanford's Roisin Willis and Juliette Whittaker impress
48:51 Lauren Gregory helps Arkansas win team title
52:08 Rojo's Bad News for Grant Fisher segment
57:08 Sara Hall first race in 8 months + Almaz Ayana in Portugal
01:02:42 $250k to Ruth Chepngetich in Nagoya
01:05:58 Kara Goucher says Alberto Salazar sexually assaulted her and she is the one who reported him to SafeSport *Book link here
01:13:36 Dick Fosbury RIP
01:18:47 Matthew Centrowitz is back!?!
01:21:23 LetsRun Doping Polls Back
Contact us: Email podcast@letsrun.com or call/text 1-844-LETSRUN podcast voicemail/text line.
Want a 2nd podcast every week? And savings on running shoes? Join our Supporters Club today and get all the LetsRun.com content, a second podcast every week, savings on running shoes, and a lot more. Cancel at anytime. Use code CLUB25 to save 25% on your first year. https://www.letsrun.com/subscribe?from=public
Check out the LetsRun.com store. https://shop.letsrun.com/ We've got the softest running shirts in the business.
Thanks for listening. Please rate us on itunes and spread the word with a friend. There is a reason we're the #1 podcast dedicated to Olympic level running.
Find out more at http://podcast.letsrun.com
Send us your feedback online: https://pinecast.com/feedback/letsrun/1d1e95d8-2cdc-4ebe-a747-b51f24c1a12b
This podcast is powered by Pinecast.