Guest Clayton Murphy and his Christmas Miracle, Cross Country x 4 , More USATF Controversy and Details on Duane Ross Tampering Case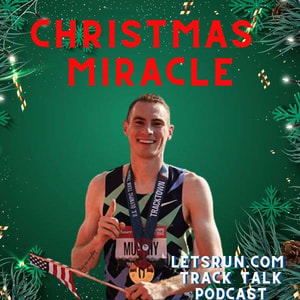 3 months ago
Olympic bronze medallist Clayton Murphy joins us at 84:02 to discuss a little miracle, his son Cash who went home from the hospital this week after 65 days in the NICU, after being born 13 weeks early. Cash and mom Ariana are doing great. Clayton talks fatherhood, his 2022 season, his plans for 2023, his big regret from the Tokyo Olympis and a lot more including the financial side of the sport, Max Siegel and Alberto Salazar, plus Akron restoring men's cross country.
Prior to Clayton joining the pod we have our regular show where we break down the latest track and field news. This week was chock full of cross country coverage as we had the Euros, FootLockers, the Kenyan champs, and the USATF club champs.
Plus a little USATF controversy and details on the Duane Ross doping tampering case.
Show notes with timestamps and links below.
The LetsRun long sleeve shirts are here. The softest shirts in the business. Enter code PODCAST to save $10. (Supporters Club members remember to enter your special code to save even more). https://shop.letsrun.com/
Running's Biggest Bang for Your Buck TheRunnerBox.com is the perfect holiday gift for runners. For as little as $29, the subscription service sends a box filled with items handpicked by their team of runners and nutritionists directly to your doorstep. Each box is worth over $50 and makes for a perfect gift (even if just for yourself) LRCers get $10 OFF any new subscription with this special link or code LETSRUN22
Show notes: Start The Runner Box
07:42 Richest half marathon held in Saudi Arabia /sport washing
13:29 Death of Grant Wahl and Rojo's memories *photo here
21:18 Champs Sports Cross Champs aka Foot Lockers
33:01 Euro Cross - Jakob Ingebrigtsen FTW
39:56 USATF Club Cross Champs - Cole Hocker FTW in Oregon Track Club kit
48:07 Kenyan XC Champs held and team for Worlds is stacked
56:13 Will Jakob Ingebrigtsen run, what Americans will run?
59:48 Max Siegel overruled USATF Board and awarded Olympic Trials to Orlando over Chattanooga *RW article
64:42 USATF sponsorship revenue is declining in real dollars *Sports Examiner article
68:56 Details in Randolph Ross tampering case come out *Link
84:02 Clayton Murphy interview *instagram post here
84:07 The incredible story of Cash
95:14 Running - From 2016 till today
102:35 Being married to Ariana, a former star sprinter
106:47 What happened in 2021 Olympic final and the day Alberto got banned in 2019?
111:53 The pressure of track and field
119:01 Akron restores Cross Country and Clayton returns to campus
123:35 Clayton's plans for 2023
126:47 Clayton's problem with Max Siegel's salary +sprint twitter
133:16 The financial side of the sport and losing his health insurance
143:41 Clayton's parenting advice
Contact us: Email podcast@letsrun.com or call/text 1-844-LETSRUN podcast voicemail/text line.
Want a 2nd podcast every week? And savings on running shoes? Join our Supporters Club today and get all the LetsRun.com content, a second podcast every week (the Friday 15 - which is usually much more than 15 minutes), savings on running shoes, and a lot more. Cancel at anytime. https://www.letsrun.com/subscribe
Check out the LetsRun.com store. https://shop.letsrun.com/ We've got the softest running shirts in the business.
Thanks for listening. Please rate us on itunes and spread the word with a friend. There is a reason we're the #1 podcast dedicated to Olympic level running.
Support LetsRun.com's Track Talk by contributing to their tip jar: https://tips.pinecast.com/jar/letsrun
Send us your feedback online: https://pinecast.com/feedback/letsrun/229ad690-85bc-4884-bcc1-e02c73e13a28
This podcast is powered by Pinecast.