Erriyon Knighton 19.49!, Penn, Drake, Farah & Hasay Struggle, Guest Ben Flanagan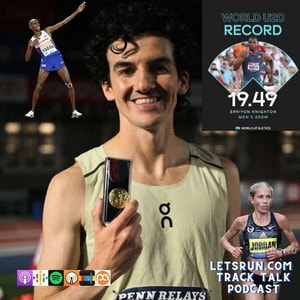 1 month ago
Erriyon Knighton ran 19.49 at age 18, Trayvon Bromell blasted Andre De Grasse at 100m, and Athing Mu crushed Ajee' Wilson at 600, as it was Penn and Drake Relays week with the 4 x 1 mile record at Penn fizzling out on leg #1.
Ben Flanagan is our guest at 80:30 to talk about what happened on the lead-off leg at Penn, running for 79-year-old Ronnie Warhurst, and his future in the marathon.
Erik Sowinski got sub 1:50 #200, and we ponder what's next for Jordan Hasay and Mo Farah who both struggled as Aliphine Tuliamuk and Wesley Kiptoo did not.
This weekend's Sound Running meet is loaded with Jakob Intebrigtsen taking on many of the best US-based athletes at 5000m.
Show notes below:
Wireless compression boots are here. Therabody RecoveryAir JetBoots The next generation in recovery. Free 60-day money-back guarantee trial. Exclusive FastFlush technology, RecoveryAir flushes out metabolic waste more fully and brings back fresh blood to your legs at three times the speed of competitors. https://www.therabody.com/letsrun to try today. (Sponsor)
Want the best summer training program? Join our Supporters Club today.
Show notes: 0:00 Summer Training Program is here
10:39 Sub 19 for 200?
14:48 Trayvon Bromell 9.75 100m to crush Andre De Grasse
20:46 On 4 x Mile record attempt fizzles
22:33 NordVPN the best VPN for sports fans. Letsrun.com/VPN for a money-back trial. (Ad)
27:40 Athing Mu crushes Ajee' Wilson in Penn 600
36:12 Drake pro meet was better than Penn's
39:06 Erik Sowinski has run 200 sub 1:50 800s
44:16 Jenny Simpson's announcing debut at Drake
48:44 Pittsburgh Half- Jordan Hasay bombs, Aliphine Tuliamuk 1st race since Olympics, Weslee Kiptoo wins $10,000 in half
57:23 Sports Examiner examines paying college athletes and how that would affect non-revenue sports. Newsletter here
59:49 Mo Farah gets beat by club runner and British press enjoys it. How much should London Marathon pay him?
69:37 Thread: Why do races pay prize money?
70:51 Sound Running Meet this weekend is Loaded with Jakob Ingebrigtsen, Intern Karl, and Colin Sahlman
80:30 Guest Ben Flanagan of On and the Very Nice Track Club joins us to talk what happened Penn Relays 4 x Mile and a lot more
Contact us: Email podcast@letsrun.com or call/text 1-844-LETSRUN
Join our Supporters Club and take your running fandom to the highest level. Get all the LetsRun.com content, a second podcast every week, savings on running shoes, and a lot more. https://www.letsrun.com/subscribe
Check out the LetsRun.com store. https://shop.letsrun.com/ We've got the softest running shirts in the business.