Hillary Bor (Guest) AR in Steeple and Half Marathon? Chelimo's Half, Korir's Full, Aussie Champs, Texas Relays (Will Sumner and Hoppel)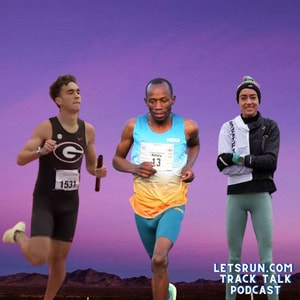 2 months ago
Hillary Bor broke Greg Meyer's 40-year-old American 10-mile record at the Credit Union Cherry Blossom and picked up $59,000 for his efforts. He joins us at 68:54 to discuss the record, going sub 8 in the steeple, the American record in the half marathon and his pole vaulting career in Kenya.
Prior to that we break down Paul Chelimo's 62:22 half marathon, Leonard Korir's 2:09:31 marathon, Eilish McColgan's 65:43 half and compare her chances in London to those of Sifan Hassan. Plus the Aussie Champs with Cameron Myers and Jess Hull and the next Katelyn Tuohy? And Texas Relays with Will Sumner, Bryce Hoppel and Sha'Carri Richardson.
Want a fulfilling career, giving back to the sport you love? (Sponsored) A Crazy Running franchise might be just what you need. Crazy Running provides unique, exceptional running programs for kids, specializing in after-school running programs for kids ages 3-14. Crazy Running started with one mom at one track in North Carolina and has now expanded to 5 states and is looking for passionate LetsRunners wanting to open a franchise. Donnie Cowart, 4th place at the 2012 Olympic Trials is a co-owner, and Crazy Running is the perfect job for people who love running. https://www.crazyrunning.com/franchise/
Show notes:
05:22 Good or bad? Paul Chelimo 62:22, Leonard Korir 2:09:31
14:35 Eilish McColgan 65:43
17:15 Sifan Hassan vs Eilish McColgan in London - who you got?
30:07 Hillary Bor $59,000 American record at Credit Union Cherry Blossom Run
36:29 Should Bor run the Olympic Marathon Trials?
38:41 Aussie Champs
40:00 Cameron Myers 2nd place at age 16
44:26 Jess Hull double
46:31 Amy Bunnage - Australia's and Stanford's Katelyn Tuohy?
50:07 Jenna Hutchins and Colin Sahlman 5000s - who is more likely to win an NCAAs?
56:18 Texas Relays Will Sumner 44. Split, Bryce Hoppel Gets Beat
01:02:00 Sha'Carri vs Hobbs on 4x100
01:08:54 Hillary Bor (guest) on setting US 10 mile record, the steeplechase, pole vaulting in Kenya and a lot more.
Contact us: Email podcast@letsrun.com or call/text 1-844-LETSRUN podcast voicemail/text line.
Want a 2nd podcast every week? And savings on running shoes? Join our Supporters Club today and get all the LetsRun.com content, a second podcast every week, savings on running shoes, and a lot more. Cancel at anytime. Use code CLUB25 to save 25% on your first year. https://www.letsrun.com/subscribe?from=public
Check out the LetsRun.com store. https://shop.letsrun.com/ We've got the softest running shirts in the business.
Thanks for listening. Please rate us on itunes and spread the word with a friend. There is a reason we're the #1 podcast dedicated to Olympic level running.
Find out more at http://podcast.letsrun.com
Send us your feedback online: https://pinecast.com/feedback/letsrun/31051296-c3c0-41ce-b43b-d86c55fdb8db
This podcast is powered by Pinecast.