Hobbs Kessler World Champ, Chicago Marathon Preview, Will Salazar Return?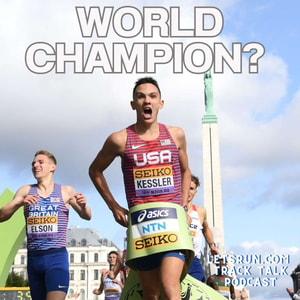 2 months ago
Hobbs Kessler is the new world record holder and world champion in the road mile, Peres Jepchirchir got her 3rd world title, Faith Kipyegon's perfect season came to an end, and Yomif Kejelcha came up just short as Alberto Salazar's doping ban comes to an end.
We break it down and turn to this weekend's Chicago Marathon where could Kelvin Kiptum and Ruth Chepngetich challenge the world record? Who will be the first American Galen Rupp or Conner Mantz, Emma Bates or Emily Sisson? What will Molly Seidel do?
Want our full Chicago Marathon pre-race podcast on Friday? Join the LetsRun.com Supporters Club today and also get savings on running shoes. https://www.letsrun.com/subscribe
Have you joined the DrinkLMNT Electrolyte revolution? Get electrolytes without the junk. Money-back guarantee https://drinklmnt.com/letsrun
Show notes:
00:30 Try DrinkLMNT today. Money back guarantee https://drinklmnt.com/letsrun
01:26 Start
03:41 Hobbs Kessler World Champion and World record holder
11:29 Do world road championships need more prize money and different dates?
20:18 Self-sponsored Callum Elson gets silver
25:43 Faith Kipyegon gets beat. Does it tarnish her perfect season?
33:57 Peres Jepchirchir gets world title #3
49:30 Beatrice Chebet wins women's 5k to cap unheralded season
52:10 Yomif Kejelcha gets silver
52:47 Alberto Salazar's ban is up, could he coach Kejelcha again?
01:00:35 Chicago Marathon - Who will be first American Rupp or Mantz?
01:10:30 Tuliamuk out, Sisson and Bates to battle for 1st American
01:14:13 Will there be a world record in Chicago?
01:17:01 Molly Seidel's return
01:22:16 Twin Cities Marathon canceled
01:27:47 Gjert doesn't go to Jakob's wedding and Yared wants the world record
Here are some links related to what we talked about on this week's podcast:
Contact us: Email podcast@letsrun.com or call/text 1-844-LETSRUN podcast voicemail/text line.
Want a 2nd podcast every week? And savings on running shoes? Join our Supporters Club today and get all the LetsRun.com content, a second podcast every week, savings on running shoes, and a lot more. Cancel at anytime. https://www.letsrun.com/subscribe
Check out the LetsRun.com store. https://shop.letsrun.com/ We've got the softest running shirts in the business.
Thanks for listening. Please rate us on itunes and spread the word with a friend. There is a reason we're the #1 podcast dedicated to Olympic level running.