Narve Nordås (Guest), Athing Mu is BACK, Who Goes Home Devastated in 1500/800?, Hot 800 and 5000 in Lausanne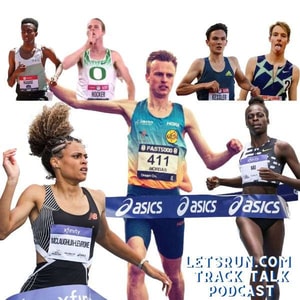 2 months ago
Narve Nordås, the newest Norwegian 1500m sensation coached by Gjert Ingebrigtsen who went from 3:36 to 3:29 this year, is our guest @ 82:15 to talk about his Dreams Become Reality year.
Prior to that, we break down the NYC Grand Prix. Athing Mu is back, what should Sydney McLaughlin-Levrone do at Worlds? Will Will Sumner make Worlds?
Who gets left out of Worlds? Cooper Teare, Yared Nuguse, Cole Hocker or Hobbs Kessler?
A mini preview of the Lausanne with a hot men's 5000 and Mary Moraa vs Keely Hodgkinson at 800 before Narve Nordås @ 82:15.
If you're a sports fan you need a VPN, we recommend NordVPN. LetsRun.com/VPN comes with a money-back guarantee.
Show notes:
01:04 Start
06:13 NYC Grand Prix
07:05 Athing Mu is back
19:55 Why no double?
24:51 Sydney 49.51 and Rojo doesn't like the competitiveness of event
31:52 Men's 800: Bryce Hoppel cruises, Will Sumner comes back to earth
36:54 Who makes Worlds team in men's 800?
42:45 Who gets left out of men's 1500m team? Kessler, Teare, Nuguse or Hocker?
56:31 Women's 800 picks
01:00:32 Women's 1500m picks
01:08:47 Zharnell Hughes 9.83 British record
01:11:53 Kejelcha skips Ethiopian 10k trials for fashion show
01:16:22 Hot 5k in Lausanne with Kiplimo, Cheptegei, Ky Robinson
01:19:33 Ingebrigtsen and Girma in 1500
01:21:10 Keely vs Moraa in 800
01:22:15 Narve Nordås Interview
01:24:17 Running 3:29 in Oslo
01:28:46 How has he improved so much?
01:32:17 How did he start focusing on 1500?
01:35:31 Sponsorship situation
01:38:07 Going to university
01:42:09 How did he start working with Gjert Ingebrigtsen?
01:45:14 Why did Gjert split with Jakob? what's Narve's relationship with Jakob?
01:48:04 His Training
01:58:04 Doping accusations and LetsRun forums
02:02:03 Altitude training, treadmills,a nd not long long runs
02:10:38 Racing schedule for 2023
Contact us: Email podcast@letsrun.com or call/text 1-844-LETSRUN podcast voicemail/text line.
Want a 2nd podcast every week? And savings on running shoes? Join our Supporters Club today and get all the LetsRun.com content, a second podcast every week, savings on running shoes, and a lot more. Cancel at anytime. https://www.letsrun.com/subscribe Use code CLUB25 to save 25% on first year.
Check out the LetsRun.com store. https://shop.letsrun.com/ We've got the softest running shirts in the business.
Thanks for listening. Please rate us on itunes and spread the word with a friend. There is a reason we're the #1 podcast dedicated to Olympic level running.
Find out more at http://podcast.letsrun.com
Send us your feedback online: https://pinecast.com/feedback/letsrun/3ea8991f-832b-41f2-b24f-8254d9e7b29e
This podcast is powered by Pinecast.