New York City Marathon Week is Here, Galen Rupp's Chances, Obiri's Debut, King Ches Voicemail, Austin for the Olympic Trials?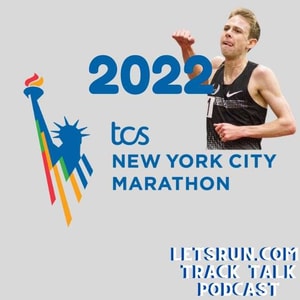 4 months ago
2022 TCS New York City Marathon race week is here and we start previewing the New York City Marathon even though our big blowout show will be the Supporters Club podcast on Friday.
How will Galen Rupp do? What about Hellen Obiri in her debut? Should we care that incoming NYRR Board Chair Nnenna Lynch had a positive drug test, what about the NYRR giving prize money to non-binary athletes.
Where should the Olympic Trials be? What about USATF Indoors?
Plus a great voicemail about King Ches and the women's superstar you've never heard about.
Join the Supporters Club today to get our big preview podcast on NY from Friday, plus savings on running shoes and a free shirt (if you join for a year). Plus if you don't like it you can cancel and keep our shirt if you sign up by Friday 11/4.
Show notes: (Supporters Club members get timestamps)
Start- Join the LRC Supporters Club to get all the NYC content and our big Friday Preview podcast.
Halloween
NYC Marathon Week is Here - Galen Rupp's chances, will he even be 1st American?
Men's Podium talk
Women's Field - How many contenders are there?
Incoming NYRR Board Chair Nnenna Lynch had drug positive in 1990s
Babylon Bee Trolls NYC Marathon
Where are USATF indoors and the Olympic Trials going to be?
Should the 2024 Olympic Trials be in Austin?
The secret women's superstar you've never heard about
Voicemail of the Week - King Ches, Supershoes, and the American record
Ryan Hall didn't have super shoes and we still should invalidate 2016 Olympic Marathon results
Contact us: Email podcast@letsrun.com or call/text 1-844-LETSRUN podcast voicemail/text line.
Want a 2nd podcast every week? And savings on running shoes? Join our Supporters Club today and get all the LetsRun.com content, a second podcast every week (the Friday 15 - which is usually much more than 15 minutes), savings on running shoes, and a lot more. Cancel at anytime. https://www.letsrun.com/subscribe?from=public
Check out the LetsRun.com store. https://shop.letsrun.com/ We've got the softest running shirts in the business.
Thanks for listening. Please rate us on itunes and spread the word with a friend. There is a reason we're the #1 podcast dedicated to Olympic level running.
Send us your feedback online: https://pinecast.com/feedback/letsrun/437c0775-ee8f-493d-b63d-c2508aa60c6b
This podcast is powered by Pinecast.