Lievin Madness, Guest Hobbs Kessler on His Cool Path to Breaking High School Indoor Record in Mile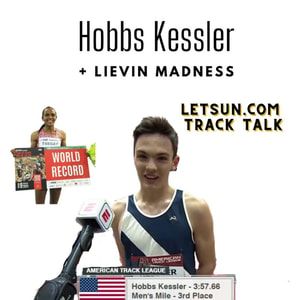 3 months ago
Hobbs Kessler the new high school record holder in the indoor mile joins us @ 86:30 to talk about his amazing record breaking run, his quick rise to the top, and one of the coolest training situations in America under coach Ron Warhurst and sometime training partner Nick Willis.
Jon Gault has an excellent profile on Kessler's rise to the top available for Supporters Club members here.
Prior to Kessler joining us, we talk about the amazing action in Lievin, France where Gudaf Tsegay smashed the women's 1500m indoor world record, Jakob Ingebrigtsen ran a European record 3:31, and Getnet Wale and Grant Holloway nearly got world records. We praise Virginia Tech, look at the Bowerman Track Clubs Prickly Pear Invite, discuss Athing Mu's Olympic chances, and whether Bryce Hoppel and Donavan Brazier are ducking each other.
Electrolytes Without the Junk - DRINK LMNT LMNT provides essential electrolytes without sugar, artificial ingredients, coloring, or any other junk. Track Talk Listeners can get a free 8 packet sample pack of LMNT by going to DrinkLMNT.com/LetsRun . (Pay just $5 shipping). Wejo loves LMNT.
100% of Supporters Club sign-ups go to Jonathan Gault this week Jonathan Gault turned 30 last week and to celebrate we're giving him 100% of the $$$ for the Supporters Club sign-ups through Valentine's Day. Click here to join, get exclusive savings on running shoes, a super soft free LRC or 1:59:40 shirt, and support your favorite track and field journalist. Des Linden signed up two weeks ago and Paul Chelimo last week.
Show notes:
5:55 Lievin Women
19:08 Lievin Men
31:38 Hobbs Kessler 3:57 / Nick Willis / Ron Warhurst Discussion
47:32 Prickly Pear Invite
55:10 Super Bowl
58:29 Rojo's hot take on Sinclaire Johnson / slander of Jenny Simpson
62:33 Virginia Tech 5 sub 4s in one race
66:50 Athing Mu - Olympic double?
75:32 Duke/ UNC Partying / Covid
78:10 NBIGP Talk: Donavan Brazier and Bryce Hoppel ducking each other?
86:30 Hobbs Kessler Interview
We want your feedback. Email podcast@letsrun.com or call 1-844-LETSRUN and hit option 7 to leave a private voicemail
Support LetsRun.com's Track Talk by donating to their Tip Jar: https://tips.pinecast.com/jar/letsrun
Find out more at http://podcast.letsrun.com
Send us your feedback online: https://pinecast.com/feedback/letsrun/51a12bc3-ff6e-4201-84f7-2c28227bb984