Chicago - Chengetich OMG, Sisson AR, Mantz Debut + Galen Rupp audio, dope bust in Kipchoge's camp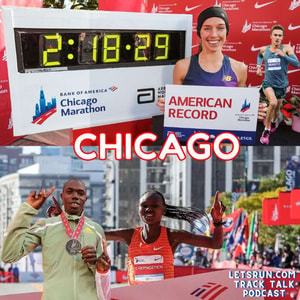 11 months ago
Ruth Chepngetich ran 2:14:18 and Emily Sisson 2:18:28 for the American Record
Ruth Chepngetich rewrote the playbook for the marathon in Chicago as Emily Sisson took down Keira D'Amato's American record with Joan Benoit Samuelson and Deena Kastor Watching. Conner Mantz debut in 2:08 with Galen Rupp in the crowd and getting props for his TV appearance. A guy in Kipchoge's camp got popped for testosterone and we praise a guy who ran slower than Ruch Chepngetich in Chicago.
ElliptiGO and ROLL Recovery are collaborating on one epic giveaway Win an ElliptiGO 8C, the go-to cross-training tool used by thousands of current and former runners, along with Roll Recovery's premier sports recovery tools, including their new R1 Percussion device. Over $3,500 in prizes! Giveaway ends Wednesday, Oct 26th. Enter today!
Show notes: (Supporters Club members always get show notes. The rest of you when we feel generous. Join our club and support the journalism we do. It made it possible to be in London and we want to send Jon to Valencia).
03:40 Ruth Chepngetich rewrites the marathon going out in 65:44 and runs 2:14:18
14:10 Kevin Hanson's tweet / Can Gidey break the WR and run 2:12?
23:52 Emily Sisson 2:18:29 American Record
31:25 Emily Sisson Comments *Video here
33:19 Galen Rupp audio, Tom Brady *video here
37:33 What is missing in Galen's career +audio #2
42:00 Men's race in Chicago
43:47 Grading Conner Mantz's 2:08 debut
52:28 Shout out to the other sub 2:10s
55:26 Doping bust in Kipchoge's camp
61:29 The wheelchair races getting too much coverage in Chicago
75:35 Wejo gets a pedicure?!
81:55 CJ Albertson 50km World Record
83:36 1 Up, 1 Down and Praise for Frank Lara
Contact us: Email podcast@letsrun.com or call/txt 1-844-LETSRUN for the podcast voicemail.
Join our Supporters Club and take your running fandom to the highest level. Get all the LetsRun.com content, a second podcast every week, savings on running shoes, and a lot more. https://www.letsrun.com/subscribe
Check out the LetsRun.com store. https://shop.letsrun.com/ We've got the softest running shirts in the business.
Thanks for listening. Please rate us on itunes and spread the word with a friend. There is a reason we're the #1 podcast dedicated to Olympic level running.