Frank Shorter 1972 Olympic Marathon Gold 50th Anniversary Podcast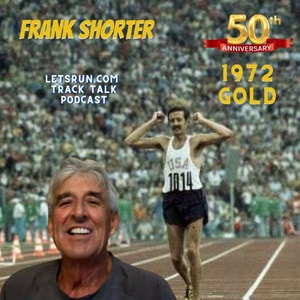 1 year ago
Frank Shorter joined us on Tuesday to celebrate the 50th anniversary of his 1972 Olympic Marathon gold medal in Munich that helped jump-start the running boom in America. We're re-releasing this today with show notes, on the 50th anniversary, so you can have it as a stand-alone podcast.
Frank talks about his Olympic gold, and a lot more, what he most remembers from the 1972 Olympics, training with Pre, anti-doping, his training, and how much he's running these days.
Video here: https://youtu.be/iKovNBktq5c
Like this content? Join the LetsRun.com Supporters Club. Get a bonus podcast every week, huge savings on running shoes, and support independent journalism. https://letsrun.com/subscribe
Show notes: 11:25 Training with Prefontaine, focusing on strengths 16:32 Rooming with Dave Wottle 1972 800m gold medallist
22:20 1972 Massacre
28:17 The running boom with Bill Rodgers and the crazy 1966 dual meet with Wesleyan
34:49 The running camaraderie in the 1970s and how professionalization changed it
41:35 Anti-doping now vs 20 years ago vs 50 years ago
50:51 1976 silver, Frank thinking Waldemar Cierpinski was Carlos Lopes
57:56 How fast could he run with a pacer and supershoes
64:48 Telling Steve Prefontaine he was "stupid" at 1972 Olympics
69:41 Altitude training with Pre, Pre's ski accident
74:40 Yale cross country and Frank dropping out of Yale-Harvard meet
81:44 His running now. How fast could he run a mile now?
83:26 The toughest runner he ever competed against
86:14 A sample week of training
93:05 What he remembers most about 1972 Olympics 01:33:59 Frank's #1 piece of running advice
Contact us: Email podcast@letsrun.com or call 1-844-LETSRUN and hit option 7 for the secret podcast voicemail.
Join our Supporters Club and take your running fandom to the highest level. Get all the LetsRun.com content, a second podcast every week, savings on running shoes, and a lot more. https://www.letsrun.com/subscribe
Check out the LetsRun.com store. https://shop.letsrun.com/ We've got the softest running shirts in the business.
Thanks for listening. Please rate us on itunes and spread the word with a friend. There is a reason we're the #1 podcast dedicated to Olympic level running.
Send us your feedback online: https://pinecast.com/feedback/letsrun/5468d032-9d90-4c9a-b190-206b118a13e8