Biggest Winners and Losers from Worlds + More Jakob and Athing Mu Talk + NYC Marathon loaded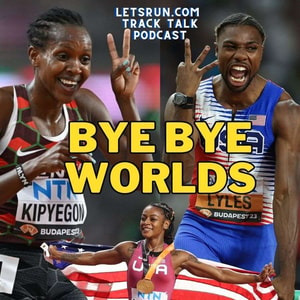 28 days ago
Thanks to everyone who joined the Supporters Club during Worlds! https://www.letsrun.com/subscribe
We say goodbye to the 2023 World Track and Field Championships. What are our final thoughts on Worlds? Who were the biggest winners and losers from Worlds? We can never get enough of Jakob Ingebrigtsen, Athing Mu, and of course even Grant Fisher, who wasn't even at Worlds.
And we even have a little NYC Marathon talk.
Zurich Weltklasse is Thursday.
0:00 Banter
03:59 Prediction Contest is scored https://www.letsrun.com/letsruncontest/logincontest.php
05:19 Jon and Noah Lyles in the airport
10:01 Noah Lyles for the win in Budapest
11:50 Sha'Carri, Noah, Sydney and Usain Bolt
16:22 Athing Mu
19:49 Mary Moraa
22:44 Femke Bol bookends meet
24:42 Reassessing Sydney and Athing
28:00 Jakob Ingebrigtsen
30:30 Disrespect for Josh Kerr?
41:14 Should Jakob and Kipyegon actually be able to do 1500, 5000, 10000 triple?
48:15 Biggest losers
54:42 Fisher, Kincaid, Grijalva
59:10 Yared Nuguse
01:00:13 Fred Kerley, Van Niekerk
01:06:25 Most Impressive non medallist
01:10:11 Men's steeple
01:12:42 Lessons from Worlds
01:20:05 NYC Marathon looking great
Email podcast@letsrun.com or call/text 1-844-LETSRUN podcast voicemail/text line.
Want a 2nd podcast every week? And savings on running shoes? Join our Supporters Club today and get all the LetsRun.com content, a second podcast every week, savings on running shoes, and a lot more. Cancel at anytime. https://www.letsrun.com/subscribe
Check out the LetsRun.com store. https://shop.letsrun.com/ We've got the softest running shirts in the business.
Thanks for listening. Please rate us on itunes and spread the word with a friend. There is a reason we're the #1 podcast dedicated to Olympic level running.