Raevyn Rogers and Ajee' Wilson (Guests) - US 800m Stars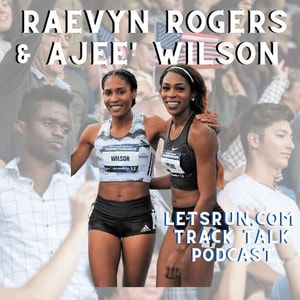 9 months ago
800m stars and good friends Raevyn Rogers and Ajee' Wilson are our special guests (separate interviews). Raevyn joins us at the start to talk about her stellar 2021 season which left her with the Olympics bronze medal and #4 fastest time by an American. After the Olympics Raevyn was honored at the Houston Texans game, her high school, and she had 25th birthday bash where one of those in attendance was Ajee' Wilson.
Ajee' was the standard bearer at 800 in the US for the latter half of the last decade winning 2 World Championships medals and setting the now broken American record. She joins the pod @ 45:44 (show notes below).
The normal LetsRun.com podcast drops on Wednesday but we have athlete specific podcasts from time to time. Join the Supporters Club to get a 2nd bonus podcast every week on Friday, bonus content and savings on running shoes.
Get Electrolytes without the junk: DrinkLMNT special offer: Get a free sample pack of DrinkLMNT with 6 different flavors for only $5 shipping. Wejo will personally refund your $5 if you don't like this stuff. DrinkLMNT is electrolytes without the junk. No sugar, no artificial flavors, yet it tastes great. DrinkLMNT.com/letsrun
Show notes:
1:37 Raevyn Rogers: Post Olympic celebrations, her 25th birthday, and lead-up to the Olympics
12:33 2020 Olympics
21:00 Thoughts on Athing Mu
24:10 Raevyn's start in running, running 2:06 and 53 as a 12 year old. What's the longest run of her life?
31:22 Leaving Ajee Wilson's group (Derek Thompson) to move back west and join Pete Julian
35:54 Tips for other runners
43:28 Ajee' Wilson
What happened in 2021
45:44 Ajee' on Athing
47:10 Plans for 2022
53:10 2022 Indoor season
54:53 Training outdoors in the winter. Is she tougher than everyone else?
Contact us: Email podcast@letsrun.com or call 1-844-LETSRUN and hit option 7 for the secret podcast voicemail.
Join our Supporters Club and taken your running fandom to the highest level. Get all the LetsRun.com content, a second podcast every week, savings on running shoes, and a lot more. https://www.letsrun.com/subscribe?from=public
Check out the LetsRun.com store. https://shop.letsrun.com/ We've got the softest running shirts in the business.
Thanks for listening. Please rate us on itunes and spread the word with a friend. There is a reason we're the #1 podcast dedicated to Olympic level running.
Send us your feedback online: https://pinecast.com/feedback/letsrun/56ee9c8b-d010-4c79-8bb5-061d01053efa