London = Y-squared + Kipruto & Bekele; Mantz Mania & Sisson in Chicago + Tuohy NCAA Favorite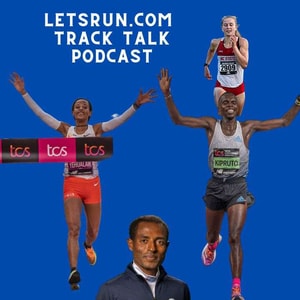 11 months ago
Yalemzerf Yehualaw crushed the 24th and 25th miles to get the win and London and show she is a natural-born marathoner while Amos Kipruto blasted a 4:21 25th mile to get the win, as Kenenisa Bekele showed his career is not over as he ran with the leaders until 5 miles to go and broke the masters world record.
The Bank of America Chicago Marathon is this week and Conner Mantz and Emily Sisson are getting a lot of the attention. More reaction to the World Marathon Majors slashing their prize pool. Plus Fiona O'Keefe and Hillary Bor got their first US road titles, Katelyn Tuohy solidified her status as the NCAA favorite, and some very disturbing allegations versus Nick Johnson and Huntington University.
TRAIN LIKE THE PROS: ElliptiGO and ROLL Recovery are collaborating on one epic giveaway. Here is your opportunity to win an ElliptiGO 8C, the go-to cross-training tool used by thousands of current and former runners, along with Roll Recovery's premier sports recovery tools, including their new R1 Percussion device. Over $3,500 in prizes! Giveaway ends Wednesday, Oct 26th. Enter today!
Order of show (join Supporters Club to get full time stamps): Start banter, reaction to London, should Jon to go Valencia?
Women's race: Y Squared runs 4:59 and 5:01 24th and 25th miles, where does she rank?
2Men's Race: Bekele was with leaders until final 5 miles, Amos Kipruto FTW
Times slower than expected
What's next for Bekele?
Word Marathon Majors reduce prize bonus by 69%, agents say they weren't told about it. What's next for WMM?
65:08 Conner Mantz Marathon debut in Chicago and he says he's going out in 63
Thread of Week: Conner Mantz says 4:46 pace at altitude feels "comfortable" - Indicates he will go out in 1:03 at Chicago Marathon
Message Board Post of Week- If the NFL was run like track and field
How fast can Emily Sisson go?
Fiona O'Keefe and Hillary Bor course records at US 10 Mile Champs
Non-binary runners starting to get equal prize money
91:48 Kaitlyn Tuohy dominates her season opener over Mercy Chelangat
95:36 Disturbing news: Allegations of sexual abuse, possible doping by Nick Johnson at Huntington University *David Woods article
Want a 2nd podcast every week? Join our Supporters Club and take your running fandom to the highest level. Get all the LetsRun.com content, a second podcast every week, savings on running shoes, and a lot more. https://www.letsrun.com/subscribe?from=public
Contact us: Email podcast@letsrun.com or call 1-844-LETSRUN and hit option 7 for the secret podcast voicemail.
Check out the LetsRun.com store. https://shop.letsrun.com/ We've got the softest running shirts in the business.
Thanks for listening. Please rate us on itunes and spread the word with a friend. There is a reason we're the #1 podcast dedicated to Olympic level running.