Alan Webb, Ryan Hall & Dathan Ritzenhein Reunited: The Big 3 Discuss Their Greatest Performances, Biggest Lessons, & Much More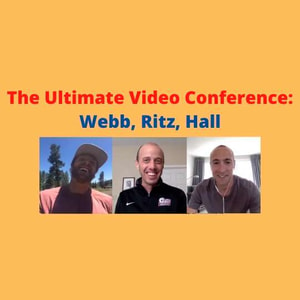 3 years ago
Alan Webb, Ryan Hall, and Dathan Ritzenhein rose to prominence in the early 2000s as members of the high school class of 2001. For their accomplishments as teens -- which included two Foot Locker Cross Country titles for Ritzenhein and a 3:53 high school mile record for Webb -- they were christened the "Big 3." Ever since, their careers have been linked, with each going on to break American records as professionals -- Webb in the mile (3:46.91), Ritzenhein in the 5,000 meters (12:56.27, since broken), and Hall in the half marathon (59:43). Hall also is still the fastest American ever at the marathon (2:04:58) from 2011 Boston.
Ritzenhein joined Webb and Hall in retirement earlier this month, marking the end of an era in American distance running. The Big 3 bridged the gap between the low point of American distance running in the 1990s and the success of the late 2000s and 2010s, where it has become common for Americans to bring home medals from global championships.
Amazingly, until Ritzenhein's retirement, Ritz, Webb, and Hall had never before gathered for a three-way conversation. We thought we had generated an incredible idea for LetsRun -- until Hall revealed he had had the same idea for his own podcast, which was published Wednesday! But the three of them had such a good time talking that they agreed to gather on Zoom for a second interview with LetsRun this week.
Find out why Ritz had Webb's face on his dartboard as a high schooler, how Webb was able to beat Ritzenhein in their famous 10k showdown in 2006, which performances each believes was the best from their careers, their biggest lessons from the sport, Webb and Ritz's thoughts on their time with the Nike Oregon Project and Alberto Salazar's ban, and much more. And when you're done, be sure to check out Hall's podcast - https://anchor.fm/runfree/episodes/Episode-40-The-Big-Three-come-together-for-a-first-ever-three-way-conversation--Dathan-Ritzenhein--Alan-Webb--and-myself-eeanvt where the Big 3 talk about their first encounters and what it was like racing each other as high schoolers.
We actually recorded this podcast as a zoom conference call so you can watch it you like at the following link on the LetsRun.com youtube page:
https://www.youtube.com/watch?v=qseFTRDPnbs We've also typed up some of the highlights from our conversation which you can find on LetsRun.com: https://www.letsrun.com/news/2020/05/the-big-3-reunited-alan-webb-ryan-hall-dathan-ritzenhein-discuss-their-greatest-performances-biggest-lessons-much-more/
Support LetsRun.com's Track Talk by contributing to their tip jar: https://tips.pinecast.com/jar/letsrun
Find out more at http://podcast.letsrun.com
Send us your feedback online: https://pinecast.com/feedback/letsrun/5ed3d125-e0b9-4981-af0b-e8aa40e0c93e