Winners and Losers from Pre, USATF 10,000m Champs, Micah Williams 9.86, + where were the fans?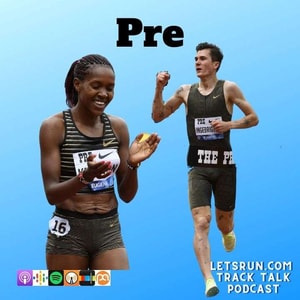 3 months ago
An amazing Prefontaine Classic took place at an amazing new Hayward Field. We break it all down and ask where were the fans? Plus, recaps of the USATF 10,000m champs at Pre, and talk of the 9.86 by 20-year-old Oregon sprinter Micah Williams.
Show notes below:
(Sponsor) The AIRWAAV® ENDURANCE Performance Mouthpiece is here! Airwaav is a relatively new training tool that launched late in 2020 after nearly 16 years of research. Now they have the ENDURANCE model that provides a more snug fit, keeping the mouthpiece in place for endurance athletes who relax their jaw during long-distance workouts or races. The AIRWAAV performance mouthpiece fits along your bottom teeth and directs your tongue down and forward creating the "optimal airway opening" resulting in:
Increased airway opening by up to 25% resulting in an immediate 28.5% respiratory rate reduction during a steady-state run
Increased endurance — by reducing respiratory rate by 20%, resulting in less lactic acid production
Faster recovery times — by reducing cortisol build-up by up to 50%
LetsRun listeners can save 10% with the code "LR10" Dig into the science and put AIRWAAV to the test. Click here to try it out.
Train Smarter This Summer: Our summer training has helped high schoolers, sub 4-minute milers, and anyone passionate about running get faster. Check it out today. https://www.letsrun.com/coaching
Show notes:
0:00 Airwaav Endurance Mouthpiece is here - Save 10% with code LR10 here: https://www.airwave.com/LR10
1:27 Start
5:05 Winners from Pre - Sha'Carri Richardson gets smoked but is a long-term winner
13:27 Michael Norman, Alison Dos Santos impress (Interview with Alison Dos Santos here https://www.youtube.com/watch?v=jO9IxKsqq0E )
15:02 Jakob Ingebgrigtsen amazes in Bowerman Mile, Olympic triple talk
25:37 Fake Josh Kerr calls in
27:40 Colin Sahlman, Cooper Teare, Cole Hocker in Bowerman Mile
33:47 Berihu Aregawi Wins 5k by Over 16 Seconds, WR Attempts Fizzle, Mo Ahmed kept out
43:27 On Athletics Club a big winner - Joe Klecker takes down Grant Fisher in 10,000m
54:09 Women's 10000, Karissa Schweizer gets it done, Natosha Rogers and Brooks Hansons make it to Worlds
66:01 Hobbs Kessler - a winner?!
70:23 Losers from Pre
70:40 What happened to Laura Muir + Big Props for Sinclaire Johnson & Faith Kipyegon
77:51 Medallists - Paul Chelimo, Courtney Frerichs, Emma Coburns - losers?
86:14 Where were the fans at Pre? Thread: Why is the stadium at Pre Classic so empty?
103:10 Message board thread of week: Could Jakob win at every distance event at US champs this year?
110:14 20-year-old Micah Williams runs 9.86. Is he the future of the 100m for the US?
Contact us: Email podcast@letsrun.com or call 1-844-LETSRUN and hit option 7 for the secret podcast voicemail.
Join our Supporters Club and take your running fandom to the highest level. Get all the LetsRun.com content, a second podcast every week, savings on running shoes, and a lot more. https://www.letsrun.com/subscribe
Check out the LetsRun.com store. https://shop.letsrun.com/ We've got the softest running shirts in the business.
Thanks for listening. Please rate us on itunes and spread the word with a friend. There is a reason we're the #1 podcast dedicated to Olympic level running.
Support LetsRun.com's Track Talk by contributing to their tip jar: https://tips.pinecast.com/jar/letsrun