Yared Nuguse the Real Deal, Alicia Monson & the OAC, Josh Kerr, Liévin Preview + Peter Bol cleared and World XC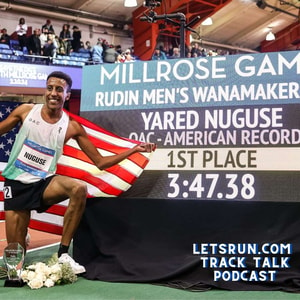 7 months ago
An amazing Millrose Games is in the books and we break it down with a ton of talk about Yared Nuguse's American record in the mile and the OAC.
Then we talk about Wednesday's amazing Liévin meet where 3 distance world records could go down and Grant Fisher takes on the big boys, before some Peter Bol and World XC Talk.
Want to inside scoop from World XC? Join the Supporters Club today, to get a 2nd podcast every week including our huge weekend previews in the Friday 15.https://www.letsrun.com/subscribe?from=public
Need a VPN? NordVPN is what we recommend. Use this link to get a great deal and support LetsRun.com https://www.letsrun.com/vpn
Show notes: (Supporters Club m embers get full timestamps)
01:04 Millrose Yared Nuguse 3:47.38 American Record
Gold medal talk?
What does this mean for Ollie Hoare and Mario García Romo group dynamic?
OAC made indoors
Jonathan Marcus comments
Women's 3000 - Alicia Monson American record #1, Katelyn Tuohy NCAA record
Josh Kerr surprises in men's 3000
Fake Josh Kerr
Who gives up their pro card + Rojo apology
59:24 Lievin Preview - Grant Fisher in World Record Race
01:18:52 Peter Bol cleared?
01:29:11 World XC
Contact us: Email podcast@letsrun.com or call/text 1-844-LETSRUN podcast voicemail/text line.
Want a 2nd podcast every week? And savings on running shoes? Join our Supporters Club today and get all the LetsRun.com content, a second podcast every week (the Friday 15 - which is usually much more than 15 minutes), savings on running shoes, and a lot more. Cancel at anytime. https://www.letsrun.com/subscribe
Check out the LetsRun.com store. https://shop.letsrun.com/ We've got the softest running shirts in the business.
Thanks for listening. Please rate us on itunes and spread the word with a friend. There is a reason we're the #1 podcast dedicated to Olympic level running.
Find out more at http://podcast.letsrun.com
Send us your feedback online: https://pinecast.com/feedback/letsrun/709fb2b6-00ba-498c-b298-b11417d3fb34
This podcast is powered by Pinecast.