Move over Kipchoge: Kiptum 2:00:35 WR, Hassan 2:13, Should Teare Leave Bowerman?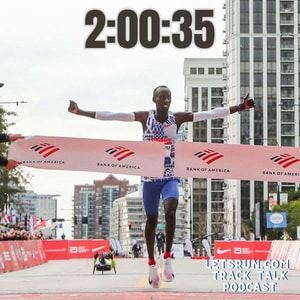 1 month ago
2023 Chicago Marathon Recap Podcast
Kelvin Kiptum ](https://www.letsrun.com/news/2023/10/kelvin-kiptum-runs-20035-to-smash-world-record-at-2023-chicago-marathon/)[ran 2:00:35 at the Chicago Marathon to smash Eliud Kipchoge's world record and become the first man under 2:01:00 in the marathon.
Sifan Hassan ran 2:13:44, 47 days after Worlds on the track, to move to #2 all-time.
Conner Mantz and Clatyon Young got the Olympic standard for the American men as Galen Rupp came up short on the fastest day of American marathoning since Dick Beardsley and Alberto Salazar.
Emily Sisson led the US women as Emma Bates faltered, but Molly Seidel impressed. Sara Vaughn did well at age 37, but was Gabriella Rooker the most impressive of everyone?
We break down everything Chicago before turning to whether Cooper Teare should leave the Bowerman Track Club.
Want a better running shoe? Check out the LetsRun.com Better Running Shoe Site. https://www.betterrunningshoes.com
Want a 2nd podcast every week? And savings on running shoes? Join our Supporters Club today and get all the LetsRun.com content, a second podcast every week, savings on running shoes, and a lot more. Cancel at anytime. https://www.letsrun.com/subscribe
Show notes:
00:00 BetterRunningshoes.com
03:25 Which was crazier Kiptum's world record or Hassan's 2:13?
13:42 How long will this record last? Brady vs Mahomes
18:28 How can we explain this run?
18:54 Kiptum's amazing training
32:45 Sub 2 soon?
37:53 American men- Conner Mantz and Clayton Young
46:58 US Women - Emily Sisson leads US women, Seidel surprises
58:25 Gabriela Rucker's cool story
01:07:28 Kipchoge vs Kiptum who wins? Will they race before Olympics
01:13:10 Will Cooper Teare go to Bowerman?
01:23:04 Could nutrition explain Kiptum?
Contact us: Email podcast@letsrun.com or call/text 1-844-LETSRUN podcast voicemail/text line.
Check out the LetsRun.com store. https://shop.letsrun.com/ We've got the softest running shirts in the business.
Thanks for listening. Please rate us on itunes and spread the word with a friend. There is a reason we're the #1 podcast dedicated to Olympic level running.