Oslo What a Meet: Jakob 3:27, 9 Sub 3:30, Kajelcha AND Kiplimo 12:41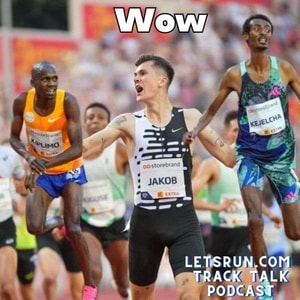 3 months ago
Plus the Will Sumner Podcast is Out for Supporters Club members
What a meet.
This was our live reaction show which has been out for Supporters Club members since Thursday.
Plus we've got a Will Sumner podcast out for Supporters Club members.
Jakob Ingebrigtsen ran 3:27.95 as 8 men went sub 3:30 including Yared Nuguse in an American record time* of 3:29.02. In the men's 5000m, Yomif Kejelcha and Jacob Kiplimo both ran 12:41.73 with Kejelcha getting the win.
FINAL CHANCE TO SAVE 50% ON FIRST YEAR OF SUPPORTERS CLUB (and hear our Will Sumner podcast early) https://www.letsrun.com/subscribe?from=public and use code GOAT50
Show notes:
00:00 What a meet and what a 1500!
08:14 5000: 2 x 12:41
15:15 Dream Mile- Cory McGee and Nikki Hiltz Impress
22:49 Intern Alex reactions - Sub 3:30 is the new standard
32:37 Rojo returns, 1500 talk, Steve Holman
37:59 Nuguse's time not an American record*
47:31 Can Jakob do this at Worlds?
51:02 Warholm returns
Contact us: Email podcast@letsrun.com or call/text 1-844-LETSRUN podcast voicemail/text line.
Want a 2nd podcast every week? And savings on running shoes? Join our Supporters Club today and get all the LetsRun.com content, a second podcast every week (the Friday 15 - which is usually much more than 15 minutes), savings on running shoes, and a lot more. Cancel anytime. https://www.letsrun.com/subscribe
Check out the LetsRun.com store. https://shop.letsrun.com/ We've got the softest running shirts in the business.
Thanks for listening. Please rate us on itunes and spread the word with a friend. There is a reason we're the #1 podcast dedicated to Olympic level running.
Find out more at http://podcast.letsrun.com
Send us your feedback online: https://pinecast.com/feedback/letsrun/71d6d333-7948-48da-a270-3757a0c64d44
This podcast is powered by Pinecast.