Alberto Ban Upheld, Cole Hocker Goes Pro, "B" Teamer? King Ches Over Rupp, Jenny Simpson 10 Mile, Niyonsaba WR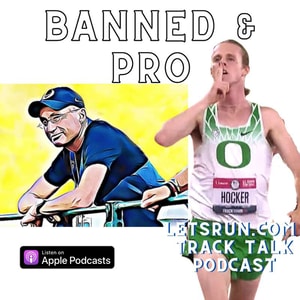 9 months ago
Thanks for your support.
Alberto Salazar's ban was upheld just after taping so we start with an Emergency Pod on that, then @ 13:53 run our normal pod where we break down Cole Hocker going pro, DSD athlete Francine Niyonsaba getting a world record, King Ches beating Galen Rupp, but possibly being a "B" teamer, talk about the lack of diversity at the 5th Avenue Mile, Centro getting a half-mile prime, Jenny Simpson moving up to 10 miles, track stars at the Met Gala, world xc being postponed again and a possibly big doping bust, before ending with a Supporters Club only Rojo's rant.
(Sponsor) The AIRWAAV Performance Mouthpiece is a relatively new training tool that launched late in 2020 after nearly 16 years of research. The AIRWAAV performance mouthpiece fits along your bottom teeth and pushes your jaw just forward enough to create the "optimal airway opening," resulting in:
Increased endurance — by reducing respiratory rate by 20%, resulting in less lactic acid production
Increased strength — by improving muscular endurance
Faster recovery times — by reducing cortisol build-up by up to 50%
Click here https://airwaav.com/LR10 and use code LR10 to save 10%.
Show notes: (SC members get full time stamps) Emergency Intro: Alberto ban upheld
13:53 Start of weekly pod
Rojo $5,000 to Molly Seidel's seat mate
On Running worth $7.7 billion
Cheruiyot over Ingebrigtsen in DL final
Asbel Kiprop to return
Francine Niyonsaba 2,000m world record
29:01 Cole Hocker goes pro, Yared Nuguse does not
Great North Run: Marc Scott over King Chese and Galen Rupp, Is King Ches an "A" teamer? Molly Seidel 7th
Why hasn't Rupp run NY?
5th Avenue Mile: Why no Kenyans?
Post of the Week on Centro winning half mile prime
Jenny Simpson 10 mile debut
67:48 Vienna Marathon champ DQd for illegal shoes
Sha'carri Richardson, Noah Lyles, Allyson Felix at Met Gala
adidas adizero Road to Records event
World XC 2022 postponed, could American bid?
89:53 Jakob Ingebrigtsen ran world XC, why don't the Americans
RaesTV: Big doping bust coming
Contact us: Email podcast@letsrun.com or call 1-844-LETSRUN and hit option 7 for the secret podcast voicemail.
Join our Supporters Club and taken your running fandom to the highest level. Get all the LetsRun.com content, a second podcast every week, savings on running shoes, and a lot more. https://www.letsrun.com/subscribe
Check out the LetsRun.com store. https://shop.letsrun.com/ We've got the softest running shirts in the business.
Thanks for listening. Please rate us on itunes and spread the word with a friend. There is a reason we're the #1 podcast dedicated to Olympic level running.
Send us your feedback online: https://pinecast.com/feedback/letsrun/73662c26-c5cf-48ea-8b16-e4add8f3c4e3