DOHA: Sha'Carri!, Girma Cruises, Coburn Falls, Norma Bombs, What About Katelyn Tuohy and Lyles v Knighton v Omanyala?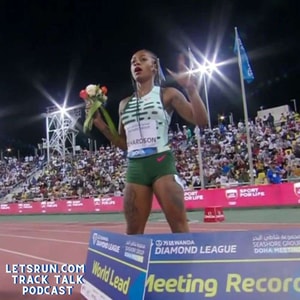 4 months ago
DOHA and opening day were so great we're giving everyone the Doha portion of our Supporters Club podcast. If you want a 2nd podcast every week, join the LetsRun.com Supporters Club today: https://www.letsrun.com/subscribe?from=publicl use code CLUB25 to save 25% on your first year.
The Diamond League opened with a bang in DOHA as Sha'Carri Richardson got the huge win, Fred Kerley got a nice won as well, and Michael Norman bombed.
In the distances, Lamecha Girma showed 3k greatness, Emma Coburn fell in the steeple, but is she in trouble, Faith Kipyegon impressed, and what about the men's 800?
And then at 67:29 we talk about the Sound Running Meet and what Katelyn Tuohy might do in the 5000 and at 78:47 talk adidas Atlanta City Games.
Show notes:
00:00 Join Supporters Club letsrun.com/subscribe use code CLUB25 to save 25%
01:37 Start
07:16 Sha'Carri with the big win
15:14 Girma wins BIG matchup in men's 3000
17:54 What about the steeple world record?
26:03 Double possible at Worlds
28:58 Kelvin Kiptum marathon interruption
30:11 Tactical or boring men's 800?
34:51 Clayton Murphy
39:30 New Union Athletics Club jerseys
40:27 Women's steeple- changing of the guard? Coburn falls and bombs, Val Constein gets injured
50:21 Faith Kipyegon takes care of business, Cory McGee jinxed by LetsRun
57:21 Beatrice Chepkoech looked better
01:00:29 Fred Kerley takes 200, Michael Norman bombs
01:07:15 JuVaughn Harrison wins high jump, should he give up long jump?
01:08:43 Sound Running Meet - How fast will Yared Nuguse need to run to be the Worlds favorite?
Supporters Club members only: 01:10:35 How fast will Kately Tuohy go in the 5000?
01:18:48 adidas Atlanta City Games - the great (Lyles v Knighton vs Omanyala), the bad (same weekend as DL, mostly just adidas athletes)
Contact us: Email podcast@letsrun.com or call/text 1-844-LETSRUN podcast voicemail/text line.
Want a 2nd podcast every week? And savings on running shoes? Join our Supporters Club today and get all the LetsRun.com content, a second podcast every week (the Friday 15 - which is usually much more than 15 minutes), savings on running shoes, and a lot more. Cancel at anytime. https://www.letsrun.com/subscribe
Check out the LetsRun.com store. https://shop.letsrun.com/ We've got the softest running shirts in the business.
Thanks for listening. Please rate us on itunes and spread the word with a friend. There is a reason we're the #1 podcast dedicated to Olympic level running.
Find out more at http://podcast.letsrun.com
Send us your feedback online: https://pinecast.com/feedback/letsrun/74828bbc-7551-46c4-a4a3-ddf11bbbce0b
This podcast is powered by Pinecast.