Sha'Carri Returns, Gary Martin (Guest), Keely Impresses, False Start, and High School 800 Record Books Nearly Rewritten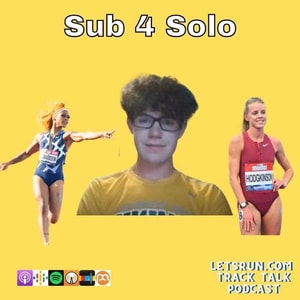 6 months ago
Gary Martin, the only high schooler besides Jim Ryun to go sub 4 in a high school mile race without a rabbit, joins us at 71:29 to talk about his amazing run, his love of the sport, and a lot more. (We have 31 minutes of highlights of our talk with Gary included today. To get the full 44-minute podcast with Gary which dropped last week, join our Supporters Club today. )
Sha'Carri Richardson is back racing and just in time as the Pre Classic is Saturday.
(To get our 2nd podcast every week and our podcast previewing Pre, join the LetsRun.com Supporters Club today https://www.letsrun.com/subscribe?from=public We're also including our LetsRun.com Summer Training Program)
The Birmingham Diamond League is in the books, Abel Kipsang keeps winning, Trayvon Bromell got DQd, and how should the false start rule be changed? Keely Hodgkinson looks like a superstar, but can she have a rivalry with Athing Mu if she never beats her?
High Schoolers Juliette Whittaker and Cade Flatt ran the #2 times ever in NYC, did the pre-race showers have something to do with it?
(Sponsor) The **AIRWAAV® ENDURANCE Performance Mouthpiece is here!** Airwaav is a relatively new training tool that launched late in 2020 after nearly 16 years of research. Now they have the ENDURANCE model that provides a more snug fit, keeping the mouthpiece in place for endurance athletes who relax their jaw during long-distance workouts or races. The AIRWAAV performance mouthpiece fits along your bottom teeth and directs your tongue down and forward creating the "optimal airway opening" resulting in:
Increased airway opening by up to 25% resulting in an immediate 28.5% respiratory rate reduction during a steady-state run
Increased endurance — by reducing respiratory rate by 20%, resulting in less lactic acid production
Faster recovery times — by reducing cortisol build-up by up to 50%
LetsRun listeners can save 10% with the code "LR10" Dig into the science and put AIRWAAV to the test. Click here to try it out.
Train Smarter This Summer: Our summer training has helped sub 4-minute milers and hobby joggers get faster. Check it out today. https://www.letsrun.com/coaching
Show notes:
0:00 Breaking news right after we record: Athing Mu, Matthew Centrowitz OUT of Pre, Trayvon Bromell in, Shelby Houlihan issues statement
1:00 Airwaav Endurance Mouthpiece is here - Save 10% with code LR10 here: https://www.airwave.com/LR10
2:51 Start regular pod - Intro, Rojo pumped to be going to Pre, Jon soccer gloating
9:44 Juliette Whittaker and Cade Flatt 2nd fastest high school 800s ever
21:53 The Thunderstorm effect the key to running fast?
25:41 Sha'Carri Richardson returns to racing. What to make of it?
34:34 Aaron Brown gets beat in "B" Diamond League 100, but win "A" 100
35:33 Should the false start rule be changed?
47:08 Keely Hodgkinson impresses, Can she have a rivalry with Athin Mu if she never wins?
55:35 100 ends the Pre meet, not the Bowerman mile - Marcell Jacobs out, but it is great (and even greater with addition of Trayvon Bromell after podcast recording)
63:38 Duane Ross the new coach at Tennessee
66:59 Thread of Week: Cooper Teare and Jakob Ingebrigtsen rivals
71:29 Gary Martin (guest) on being the 2nd high schooler ever (and the fastest and first since Jim Ryun) to go sub 4 in a high school only mile without a rabbit
Contact us: Email podcast@letsrun.com or call 1-844-LETSRUN and hit option 7 for the secret podcast voicemail.
Join our Supporters Club and take your running fandom to the highest level. Get all the LetsRun.com content, a second podcast every week, savings on running shoes, and a lot more. https://www.letsrun.com/subscribe
Check out the LetsRun.com store. https://shop.letsrun.com/ We've got the softest running shirts in the business.
Thanks for listening. Please rate us on itunes and spread the word with a friend. There is a reason we're the #1 podcast dedicated to Olympic level running.
Support LetsRun.com's Track Talk by contributing to their tip jar: https://tips.pinecast.com/jar/letsrun