Bekele Doesn't Bomb, London Is This Weekend, and A Guy Who Sat Next to Molly Seidel on a Plane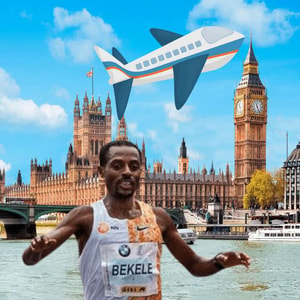 2 months ago
39 year-old Kenenisa Bekele finished the Berlin marathon, but only in 3rd place, what does it mean for his future? A loaded London Marathon is this weekend, we start to take a look at the fields.
We end by talking talk to a guy @63:14 (NCAA steeplechaser Zach Litoff (@litoffstudios) who sat next to Molly Seidel on her first flight back in the United States after winning her historic bronze medal at the Olympics. He recounts his cool experience, but doesn't get Rojo's $5,000 for being this guy.
Plus a little running ethics, men racing women, and have a tweet of the week from Deena Kastor. Show notes below.
Want a 2nd podcast every week? - Join the LetsRun.com Supporters Club and take your running fandom to the highest level. Get all the LetsRun.com content, savings on running shoes, and a lot more. Right now you can save 20% on running shoes, so the subscription can pay for itself. https://www.letsrun.com/subscribe
Offers: Last chance to save 10% on AirWaav Performance Mouth Piece (Ad) The AIRWAAV Performance Mouthpiece is a relatively new training tool that launched late in 2020 after nearly 16 years of research. The AIRWAAV performance mouthpiece fits along your bottom teeth and pushes your jaw just forward enough to create the "optimal airway opening," resulting in:
Increased endurance — by reducing respiratory rate by 20%, resulting in less lactic acid production
Increased strength — by improving muscular endurance
Faster recovery times — by reducing cortisol build-up by up to 50%
Go to https://airwaav.com/LR10 and use code LR10 to save 10%
Get Electrolytes without the junk: DrinkLMNT special offer: Get a free sample pack of DrinkLMNT with 6 different flavors for only $5 shipping. Wejo will personally refund your $5 if you don't like this stuff. DrinkLMNT is electrolytes without the junk. No sugar, no artificial flavors, yet it tastes great. DrinkLMNT.com/letsrun
Contact us: Email podcast@letsrun.com or call 1-844-LETSRUN and hit option 7 for the secret podcast voicemail.
Check out the LetsRun.com store. https://shop.letsrun.com/ We've got the softest running shirts in the business.
Thanks for listening. Please rate us on itunes and spread the word with a friend. There is a reason we're the #1 podcast dedicated to Olympic level running.
Send us your feedback online: https://pinecast.com/feedback/letsrun/77c3754a-fe87-4a04-8d47-46569e658674