Wow: 3 WRs in Paris, What an NCAAs (Will Sumner, Katelyn Tuohy) and LOADED Oslo 1500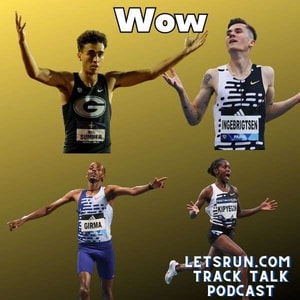 3 months ago
What an amazing week of track and field.
We had three world records in Paris with Jakob Ingebrigtsen getting the 2-mile world record, Faith Kipyegon the 5000, and Lamecha Girma the steeplechase, plus Sydney McLaughlin got beat, and Keely Hodkginson ran 1:55.
Then we had a crazy NCAA championships with stars Britton Wilson and Katelyn Tuohy leaving empty handed but Will Sumner arriving as Donavan Brazier's heir apparent or are we getting ahead of ourselves? Plus the Andy Powell 1500m magic continued with Nathan Green emerging as his newest star.
And on Thursday we have the Oslo Diamond League with an amazing men's 1500m with Jakob Ingebrigtsen taking on Mohamed Katir, Yared Nuguse, Timothy Cheruiyot, Josh Kerr, Ollie Hoare and many more.
Save 50% on the 1st year of LetsRun.com Supporters Club Get a 2nd podcast every week (and our Oslo live reaction podcast this week) and you can save 50% off your first year with code GOAT50. You get ALL the letsrun content and a great soft tshirt if you sign up for a year. https://www.letsrun.com/subscribe
Show notes:
00:00 Start
00:55 Banter: 3 WRs in Paris, Crazy NCAAs, Oslo on top
07:40 Rojo on Kipyegon in Paris
14:06 Are they peaking too soon? What about the shoes?
21:54 Should Athing Mu be a bit worried about Keely?
30:53 Sydney gets beat
36:19 NCAAs:
36:19 Tuohy gets beat in 1500 doesn't run 5000
46:10 Should Tuohy shut season down?
50:01 Britton Wilson comes up short too
52:09 Michaela Rose and women's 800
01:00:44 Will Sumner superstar
01:09:27 Who is more likley to win Olympic gold Will Sumner or Donavan Brazier? Should Sumner go pro?
01:17:11 Men's 1500, Nathan Green, Joe Waskom and Andy Powell
01:31:26 Ky Robinson and Stanford
01:35:53 Oslo 1500 Preview - Jakob takes on everyone but Wightman and R Cheruiyot
01:43:21 Mental health
01:45:51 Tori Bowie RIP
01:46:57 Double threshold training explained
Contact us: Email podcast@letsrun.com or call/text 1-844-LETSRUN podcast voicemail/text line.
Want a 2nd podcast every week? And savings on running shoes? Join our Supporters Club today and get all the LetsRun.com content, a second podcast every week, savings on running shoes, and a lot more. Cancel at anytime. https://www.letsrun.com/subscribe
Check out the LetsRun.com store. https://shop.letsrun.com/ We've got the softest running shirts in the business.
Thanks for listening. Please rate us on itunes and spread the word with a friend. There is a reason we're the #1 podcast dedicated to Olympic level running.
Find out more at http://podcast.letsrun.com
Send us your feedback online: https://pinecast.com/feedback/letsrun/79180f06-0c9b-431c-8a27-76f42cdf78bf
This podcast is powered by Pinecast.