Letesenbet Gidey 62:52, USATF World's Selection Policy Sucks, Athlete of Year, and Beer Mile WR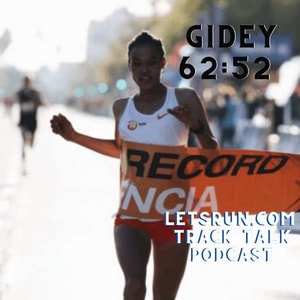 6 months ago
Letesenbet Gidey ran 62:52 for the half marathon in Valenica and the LRC crew tries to make sense of this amazing record.
USATF's selection policy for the Worlds Eugene 2022 is out and people aren't happy including Rojo who goes on a rant.
World Athletics Athlete of Year: Sydney McLaughlin, Yulimar Rojas, or Sifan Hassan? Karsten Warholm or Ryan Crouser?
The beer mile record is now sub 4:30, some trouble in Oregon.
Order of show (Supporters Club members have time stamps) Gidey's 62:52
Paula Radcliffe the big winner? / Super shoes
Frank Lara runs 61:00
Thumbs down USATF selection policy for Worlds in the Marathon
Rojo's rant
World Athletics AOY
Beer Mile World record
Allegations at University of Oregon
Contact us: Email podcast@letsrun.com or call 1-844-LETSRUN and hit option 7 for the secret podcast voicemail.
Join our Supporters Club and taken your running fandom to the highest level. Get all the LetsRun.com content, a second podcast every week, savings on running shoes, and a lot more. https://www.letsrun.com/subscribe?from=public
Check out the LetsRun.com store. https://shop.letsrun.com/ We've got the softest running shirts in the business.
Thanks for listening. Please rate us on itunes and spread the word with a friend. There is a reason we're the #1 podcast dedicated to Olympic level running.
Send us your feedback online: https://pinecast.com/feedback/letsrun/807797d3-2ad9-4958-9367-0af5ab75406d