Homestretch of the Trials, Jake MF Wightman, 200 Final is Here + SC Day 6: Jeruto Golden, US 800m Bomb, What's Up with Coburn?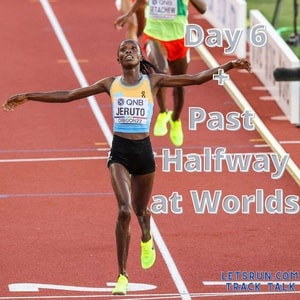 8 months ago
We've been having daily podcasts from Worlds for our LetsRun.com Supporters Club members. Thanks to everyone who has signed up.
It's the membership that pays for itself as you also save 20% on running shoes. Go to https://www.letsrun.com/subscribe to join today.
Worlds has been a victory lap for LRC with Jakob Ingebrigtsen admitting he's a podcast listener, plus praise in the NY Times and NBC Sports for LetsRun.com.
In this podcast, we break down Day 6 of the Trials at the start, and then look back at the first half of the Trials starting at 52:23 and ahead to the final 4 days.
Show notes: Start- banter and LRC victory lap
5:27 Jakob Ingebrigtsen podcast listener
8:23 Women's steeple final - Norah Jeruto wins deepest, fastest steeple ever, as Americans Emma Coburn and Courtney Frerich come up short
14:54 Can Emma Coburn be a global force again?
27:41 Jake Wightman ran like he could win, that's what Emma tried to do
30:56 US Men's 800m debacle - All 4 US runners including Donavan Brazier out in round 1 + DQ of Koech
41:55 Who impressed in 800? Who is the favorite?
52:23 Big narratives of 1st half of Worlds
59:18 Devon Alen DQ
68:28 Another look at Jake Wightman and men's 1500. What happened to Jakob?
76:58 Can't fake fitness
81:36 Jon isn't interested in Sydney McLaughlin dominating 400 hurdles
87:32 If Faith Kipyegon the greatest miler ever? male or female?
92:28 Men's 200: Who you got Knighton or Lyles? Why is Knighton in lane 3?
103:22 Men's 5000 - Who you got?
104:48 What's ambiance like? Why isn't it sold out?
Contact us: Email podcast@letsrun.com or call 1-844-LETSRUN and hit option 7 for the secret podcast voicemail.
Join our Supporters Club and take your running fandom to the highest level. Get all the LetsRun.com content, a second podcast every week, savings on running shoes, and a lot more. https://www.letsrun.com/subscribe
Check out the LetsRun.com store. https://shop.letsrun.com/ We've got the softest running shirts in the business.
Thanks for listening. Please rate us on itunes and spread the word with a friend. There is a reason we're the #1 podcast dedicated to Olympic level running.