Tokyo Olympics Track and Field Preview Podcast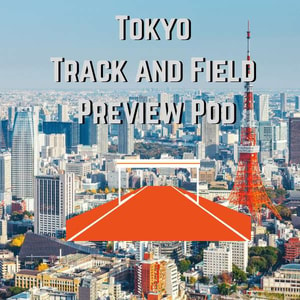 2 months ago
The Olympics are here and we preview the action. Show notes below.
Play in the $200,021 Tokyo Running Warehouse Prediction Contest. Get your picks in by 8:00 pm eastern on Thursday.
Join our Supporters Club to get daily podcasts from Tokyo, behind the scenes access, and video shows. https://www.letsrun.com/subscribe
(Sponsor) The AIRWAAV Performance Mouthpiece is a relatively new training tool that launched late in 2020 after nearly 16 years of research. The AIRWAAV performance mouthpiece fits along your bottom teeth and pushes your jaw just forward enough to create the "optimal airway opening," resulting in:
Increased endurance — by reducing respiratory rate by 20%, resulting in less lactic acid production
Increased strength — by improving muscular endurance
Faster recovery times — by reducing cortisol build-up by up to 50%
LetsRun listeners can save 10% with the code "LR10" Dig into the science and put AIRWAAV to the test. Click here to try it out.
Show notes:
1:29 Boots on the ground
7:07 Centro 3:49 Mile Good/bad/necessary?
12:57 Men's 1500 Preview: Josh Kerr gold medal threat?
24:20 Men's 100/200 Preview
27:55 Women's 100/200
32:10 Women's 400: Miller-Uibo double?
37:09 Simone Biles - is running mental or physical?
42:43 Alberto Salazar banned for life by Safe Sport / Private eye tails him and Galen Rupp
49:28 Men's 400 preview
56:23 400 Hurdles
59:24 Women's 800
Which Americans are most likely to medal? How many distance medals will America get?
69:36 Sifan Hassan three golds or 0 golds?
74:35 Men's 10,000m Final: Passing the torch
78:17 Dathan Ritzenhein OAC update / private coaches in Tokyo
84:20 Social Media Update from Intern Karl: Josh Kerr audio on Centro mile
88:43 Noah Lyles update
92:01 Michael Johnson on Shaunae Miller-Uibo

94:33 Olympic roomates: Cole Hocker and Mason Ferlic

Links :GoForTheRed.org
We want your feedback. Rate us on itunes and spread the word with one friend. There is a reason we're the #1 Olympic running podcast. Email podcast@letsrun.com or call 1-844-LETSRUN and hit option 7 to leave a private voicemail.
Check out the LetsRun.com store. https://shop.letsrun.com/
Send us your feedback online: https://pinecast.com/feedback/letsrun/843b8491-b5ea-44a1-b6ef-d4ec91075fb1