Devon Allen: 12.99, Eugene 2022, and NFL Players Trying to Run Fast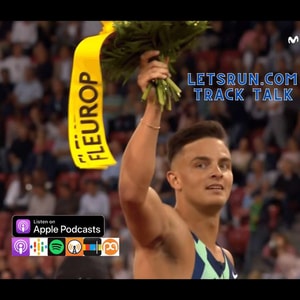 2 months ago
We've got a special "Where Your Dreams Become Reality" podcast with Devon Allen who became the 22nd man and 13th American to go sub 13 second in the 110m hurdles by running 12.99 last month.
Get Electrolytes without the junk: DrinkLMNT special offer: Get a free sample pack of DrinkLMNT with 6 different flavors for only $5 shipping. Wejo will personally refund your $5 if you don't like this stuff. DrinkLMNT is electrolytes without the junk. No sugar, no artificial flavors, yet it tastes great. DrinkLMNT.com/letsrun
*Nice Sports Illustrated profile on Devon from 2016.
Show notes: 2:38 Start: Devon Allen 12.99
7:49 Did Grant Holloway choke?
11:44 Breakout freshman year at Oregon, his career till now
23:55 Future goals, Worlds 2022 in Eugene
26:08 Does football help him in track?
30:38 Can he run 12.80?
33:29 Football players running the 100, dream football 100 match-up, how fast can he run the 100?
Contact us: Email podcast@letsrun.com or call 1-844-LETSRUN and hit option 7 for the secret podcast voicemail.
Join our Supporters Club and taken your running fandom to the highest level. Get all the LetsRun.com content, a second podcast every week, savings on running shoes, and a lot more. https://www.letsrun.com/subscribe
Check out the LetsRun.com store. https://shop.letsrun.com/ We've got the softest running shirts in the business.
Thanks for listening. Please rate us on itunes and spread the word with a friend. There is a reason we're the #1 podcast dedicated to Olympic level running.
Send us your feedback online: https://pinecast.com/feedback/letsrun/85ca2509-1452-4e66-8b42-cf55c89716c9