Absolute Madness in Valencia, Shoes, Olympic babies, and The Track Meet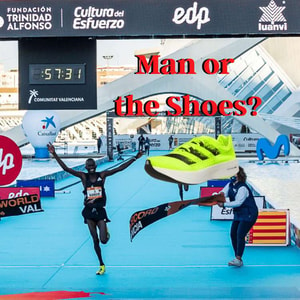 4 months ago
FOUR men, led by Kibiwott Kandie, ran 57 and change for the half marathon in Valencia, 30 went sub 2:10 in the marathon, and the adidas 'Super Shoe' is definitely here. Aliphine Tuliamuk is pregnant but still going to run the Olympics, Weini Kelati is a pro, dreams became reality at The Track Meet in California, Emily Sisson just came up short in Valencia as Jordan Hasay struggled.
Podcast is sponsored by TheRunnerBox.com: Loaded with $50+ of goods, The RunnerBox ships to your doorstep for as little as $28. Each product it contains is hand-picked and tested by professional athletes to ensure the proper mix of nutrition and gear to get you out the door and en-route to crushing your goals. Use code LETSRUN to save $10 off your first order. Click for more info
Looking for the perfect virtual challenge? The Marathon Challenge 5k/10k/half marathon and marathon is here. Run for your favorite pros. More info here.
Join the LetsRun.com Supporters Club Member and get bonus content (and take advantage of Black Friday pricing). LRC Supporters Club Members get exclusive content, a private forum, enhanced message board features, and huge savings on running shoes. Click here for more info
Want the classic (and super soft) LetsRun.com Shirt? Click here and use code ROJO at checkout.
Supporters Club Members get timestamps below.
2:18 Dallas Cowboys / TheRunnerbox.com
Malcolm Gladwell coming
Valencia Half Madness and shoes
Peres Jepchirchir AOY? / Genzebe Dibaba half marathoner?
Should Kenya select a different Olympic team?
Emily Sisson / Jordan Hasay in Valencia
Japanese Marathoners crush the US
How many Americans go sub 2:10 at Marathon Project ?
Aliphine Tuliamuk expecting a baby and running the Olympics
The Track Meet
Dreams Become Reality
Gwen Jorgensen and Vanessa Fraser struggle
Japanese 10,000m madness
Weini Kelati a pro
Diamond League reinstates 5,000
High School: Newbury Park, Sydney Thorvaldson impress
Rafer Johnson RIP. Great LA Times obituary here
Rate and review us on Itunes please.
Want to reach us? Email podcast@letsrun.com or call 1-844-LETSRUN and hit option 7 to leave a private voicemail (or you can reach our phones)
Support LetsRun.com's Track Talk by donating to their Tip Jar: https://tips.pinecast.com/jar/letsrun
Find out more at http://podcast.letsrun.com
Send us your feedback online: https://pinecast.com/feedback/letsrun/889fe156-0089-4152-b3f7-6e2cadf3da2f