Kipchoge Flops in Boston, Obiri Delivers, Emma MF Bates, a 100m Sprint Feud, Cooper Teare WL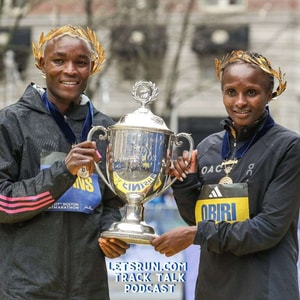 1 month ago
Eliud Kipchoge ran the Boston Marathon and got beat while Hellen Obiri took a big chance and got the victory.
What happened to Kipchoge? Will he ever be back in Boston?
We break down Boston including the Americans Emma Bates, Conner Mantz, Scott Fauble and Rojo with praise for Sara Hall?
Plus, there's a sprint beef between Marcell Jacobs and Fred Kerley. Should they have a match race or just an MMA PPV bout?
Cooper Teare, Nikki Hiltz and Michaela Rose impressed on the track.
Want our London Preview Podcast (and a 2nd podcast every week)? And savings on running shoes? Join our Supporters Club today and get all the LetsRun.com content, a second podcast every week, savings on running shoes, and a lot more. Cancel at anytime. https://www.letsrun.com/subscribe
Show notes:
08:50 Kipchoge gives anexplanation and calls out media. What happened to him?
28:11 Is Evans Chebet #1 marathoner in world?
33:27 Race broadcast/Fake Josh Kerr
38:32 Will Kipchoge actually run Boston in 2024?
42:21 Women's race - Hellen Obiri superstar
46:53 Ritz
56:27 Emma Bates wow
01:05:44 Boston the most famous marathon in the world?
01:08:55 Rojo's big winner - Sara Hall?
01:12:30 Amerian men- who was more impressive Scott Fauble or Conner Mantz?
01:26:47 Emma Bates marriage proposals
01:27:46 Sprint action - Michael Norman gets beat and Fred Kerley and Marcell Jacobs have a beef
01:36:28 Michaela Rose and Nikki Hiltz in great 800
01:43:19 Cooper Teare 3:34 World leader - is he a miler?
Contact us: Email podcast@letsrun.com or call/text 1-844-LETSRUN podcast voicemail/text line.
Check out the LetsRun.com store. https://shop.letsrun.com/ We've got the softest running shirts in the business.
Thanks for listening. Please rate us on itunes and spread the word with a friend. There is a reason we're the #1 podcast dedicated to Olympic level running.
Find out more at http://podcast.letsrun.com
Send us your feedback online: https://pinecast.com/feedback/letsrun/8cee9677-0c7a-4a82-b066-c82800b05a78
This podcast is powered by Pinecast.