Wacky World XC, World Records Galore (Girma, Bol, Crouser), Fred Kerley Signs With..., USATF Indoor Controversy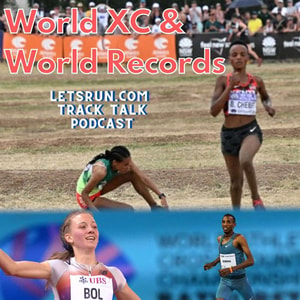 7 months ago
What a week. We had a crazy and marvelous World Cross Country Championships in Australia with a tough course, brutal weather, Letesenbet Gidey collapsing, greatness from Jacob Kiplimo and two USA junior medals.
Then it was world records galore on the track with Ryan Crouser crushing it, Femke Bol taking down the oldest track record on the books, and Lamecha Girma breaking Daniel Komken's world record.
USATF Indoors was a bit of an afterthought but it delivered with some controversy and Sam Prakel leaving as a double champion.
Your Race Day Experience Will Never Be the Same - Bye, Bye Safety Pins (Sponsored) BibBoards.com  NO PINS - NO HOLES - NO MAGNETS This "Snap & Lock" technology gets rid of safety pins for your race number. #SavetheShirt The cleanest and greenest way to the finish line. Reusable from event to event and customizable. Save 20% with code LETSRUN.
Show notes:
00:00 Bib Boards - Say goodbye to safety pins at road races
01:30 Start
04:35 Breaking news Fred Kerley signs with...
10:51 World XC
12:40 Women's race- Drama with Letesenbet Gidey collapsing
26:33 The amazing Nozomi Tanaka of Japan
29:44 Ednah Kurgat 18th, Weini Kelati 21st
31:15 USA only send 5 women's athletes and deprives Susanna Sullivan of her dream
35:26 Men's senior race - Jacob Kiplimo delivers
45:27 Will Grant Fisher ever win a global meda?- Berihu Aregawi gets silver?
51:24 Sam Chelanga shout out
52:23 US U20 Teams Both Win Bronze
59:54 Lamecha Girma Breaks Daniel Komen's World Record
01:00:15 Femke Bol 49.26, can she challenge Sydney?
01:05:46 Ryan Crouser with his old technique at a high school meet breaks WR
01:12:43 USATF Indoors
01:16:57 Men's 1500m Josh Thompson DQ'd !?!?!? shows what's wrong with sport's presentation
01:27:50 Craig Engels Nike ad (we couldn't find the ad online but the 9 minute youtube video on Craig they were promoting is here)
01:30:20 Michael Norman to 100, Nuguse in 1500 in Madrid on Supporters' Club podcast
01:32:37 Greg Foster RIP
01:33:09 Lynn Jennings and other stars talk about sexual abuse from John Babington
Contact us: Email podcast@letsrun.com or call/text 1-844-LETSRUN podcast voicemail/text line.
Want a 2nd podcast every week? And savings on running shoes? Join our Supporters Club today and get all the LetsRun.com content, a second podcast every week, savings on running shoes, and a lot more. Cancel at anytime. https://www.letsrun.com/subscribe
Check out the LetsRun.com store. https://shop.letsrun.com/ We've got the softest running shirts in the business.
Thanks for listening. Please rate us on itunes and spread the word with a friend. There is a reason we're the #1 podcast dedicated to Olympic level running.
Find out more at http://podcast.letsrun.com
Send us your feedback online: https://pinecast.com/feedback/letsrun/9599935f-4d2f-4767-a895-579bcb572993
This podcast is powered by Pinecast.