American Record Special with Yared Nuguse and Woody Kincaid (Guests)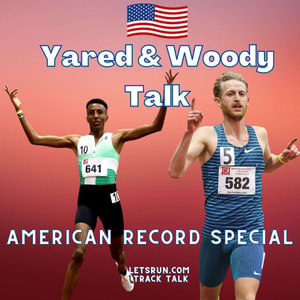 10 months ago
What a special podcast we have for you. We sit down with both American record holders from the weekend Yared Nuguse of the On Athletics Club and Woody Kincaid of Nike.
First up is Yared and he talks about his 7:28.24 American record at 3000m, his first year as a pro, his dream of the Olympic Gold, his retirement plans, and more.
Then, Woody joins @46:13 and talks his 12:51.61 American 5000m record, his training situation in Flagstaff, leaving the Bowerman Track Club, that Jerry Schumacher quote, the Shelby Houlihan situation, how the death of his father impacted him, and much more.
Detailed show notes below.
Love this content? You'll love the LetsRun.com Supporters Club and 100% of signups this week go to Jonathan Gault. Use code BIRTHDAY to save 25% and get a 2nd podast every week, all the LetsRun.com Supporters Club content, a free shirt (if you sign up for a year), and savings on running shoes. Cancel at any time. Money back guarantee. https://www.letsrun.com/subscribe
Contact us: Email podcast@letsrun.com or call/text 1-844-LETSRUN podcast voicemail/text line.
Start: Save 25% on Supporters Club w 100% of proceeds to Jonathan Gault with code BIRTHDAY https://www.letsrun.com/subscribe
1:35 Yared Nuguse American 3000m record holder
08:29 What's the reason for his progress in the last year?
14:33 What has been the biggest adjustment as a pro?
16:07 Picking a pro team
23:25 Notre Dame years
25:40 His start in running
29:33 Dental school is on hold until....
32:00 "I want to be able to like win gold at the Olympics one of these days"
36:40 American record attempt at Millrose
46:13 Woody Kincaid
48:03 How does it feel to be an American record holder? Can he get the 3k record this weekend?
53:01 Which is better 7:28 or 12:51?
55:23 Is he a medal threat now?
01:00:20 Who are the biggest stars in American distance running? + his favorite American runner
01:06:15 Getting started in the sport
01:10:14 Did he feel overshadowed at Bowerman?
01:16:39 Jerry's comment 'I think you're throwing away your career by leaving"'
01:25:18 Training in the fall, double threshholds, Marius Bakken
01:32:41 The relief/pressure of running 12:51, how he started working with Mike Smith
01:37:41 His tattoo
01:43:30 The worst take about Woody on LetsRun
01:46:28 His accommodations in Flagstaff
01:47:23 The Shelby Houlihan situation, doping
01:51:39 The death of his dad
Check out the LetsRun.com store. https://shop.letsrun.com/ We've got the softest running shirts in the business.
Thanks for listening. Please rate us on itunes and spread the word with a friend. There is a reason we're the #1 podcast dedicated to Olympic level running.
Find out more at http://podcast.letsrun.com
Send us your feedback online: https://pinecast.com/feedback/letsrun/a5ccaedd-462c-4d59-94fd-1323ca97ce3d
This podcast is powered by Pinecast.