New Drug in Kenya? Almaz Ayana is Back? Parker Valby or Katelyn Tuohy? Non-binary prize money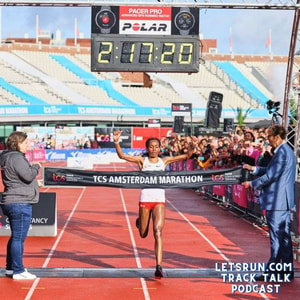 7 months ago
Boston Marathon champ Diana Kipyokei tested positive for triamcinolone acetonide - is this the new drug of choice in Kenya?
Almaz Ayana showed she isn't done as she debuted in 2:17 at the TCS Amsterdam Marathon with Genzebe Dibaba making history herself.
Keira D'Amato will be at the TCS NYC Marathon as will non-binary prize money. The WMM make it explicit they care less about the elites.
Who is the NCAA XC favorite? Katelyn Tuohy or Parker Valby? Show notes below.
ElliptiGO and ROLL Recovery are collaborating on one epic giveaway Win an ElliptiGO 8C, the go-to cross-training tool used by thousands of current and former runners, along with Roll Recovery's premier sports recovery tools, including their new R1 Percussion device. Over $3,500 in prizes! Giveaway ends Wednesday, Oct 26th. Enter today!
Want to be true running insider, get a 2nd podcast every week and savings on running shoes? Join our Supporters Club and take your running fandom to the highest level. Get all the LetsRun.com content, a second podcast every week, savings on running shoes, and a lot more. https://www.letsrun.com/subscribe
Show notes:
18:04 Love for Edna Kiplagat
21:14 Almaz Ayana 2:17 Debut Marathon, Genzebe Dibaba 2:18 at TCS Amsterdam Marathon
32:50 America is most likely to medal at the 2024 Olympics in what distance event?
34:15 Keira D'Amato running TCS New York City Marathon, Peres Jepchirchir Out
41:25 Rojo Rant: Non-Binary Prize Money
50:10 World Marathon Majors makes it explicit - less emphasis on elites
58:53 Email of the Week - Flying to Valencia instead of racing CIM
61:58 Why running isn't popular
63:05 Rojo's Confession of Week involving Kenenisa Bekele
70:36 Cross Champs at TRE
72:37 Vedanta Delhi Half Marathon
76:39 NCAA Cross Country - Katelyn Tuohy Big Win But Could Parker Valby be NCAA Favorite?
83:34 Will an NCAA woman run 14:50 for 5k this year?
85:40 Training Thread of Week - Parker Valby/Natalie Cook - what am I missing?
91:40 Intern Karl update / Colin Sahlman debut *More here
97:05 20th Anniversary of (Wejo Pacing) Paula Radcliffe World Record #1
100:27 'Hickam' El Guerrouj
Contact us: Email podcast@letsrun.com or call/txt 1-844-LETSRUN for the secret podcast voicemail.
Check out the LetsRun.com store. https://shop.letsrun.com/ We've got the softest running shirts in the business.
Thanks for listening. Please rate us on itunes and spread the word with a friend. There is a reason we're the #1 podcast dedicated to Olympic level running.
Send us your feedback online: https://pinecast.com/feedback/letsrun/abd6a089-cc84-48a4-a54a-ad1751fd02d6