Fisher Leaves Bowerman, Fast Valencia Half, Ingebrigtsen Drama, Spouses of Fast and Famous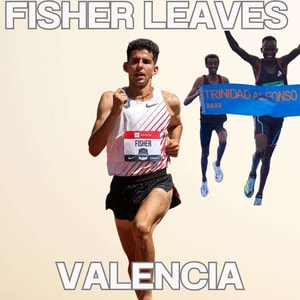 1 month ago
Grant Fisher, the American record holder at 3000, 5000, and 10000, has left the Bowerman Track Club. What's next for Grant and Bowerman?
The Ingebrigtsen family feud is now public. What should the solution be in terms of track and field?
Kibiwott Kandie got the win for Kenya at the Valencia Half Marathon in 57:40 as the Ethiopian record books and world top-1o times were re-written left by Yomif Kejelcha finishing second in 57:41.
Why aren't Americans running faster in the half marathon? And how many Americans will qualify for the Olympic Marathon? The Road to Paris list is out.
We end @ 85:23 with a new segment Spouses of the Fast and Famous, and our guest is Kate Kodet, wife of Andrew Brick Johnson, the composer of the LetsRun.com intro music, and who turns 40 today. Happy Birthday Andrew.
Show notes:
00:00 BetterRunningShoes.com
01:35 Start - Banter Wags of Fast and Famous, Wejo runs a 60, Texas Rangers World Series
08:17 Grant Fisher leaves Bowerman
29:06 Will Bowerman exist in 4 years?
38:36 Millrose Games same day as Superbowl
41:42 London meet had 50,000 fans and lost money
46:52 Ingebrigtsen family drama
51:42 What should the solution be?
57:55 Amazing times and finish in Valencia Half Marathon
01:04:17 Should the Americans be able to break Ryan Hall's record?
01:11:17 Road to Paris Rankings out, how many Americans will make Olympic marathon?
01:19:08 Heps XC
01:25:23 Spouses of Fast and Famous: Kate Kodet wife of Andrew Brick Johnson (composer of LetsRun intro music)
Links: SportsExaminer newsletter
Contact us: Email podcast@letsrun.com or call/text 1-844-LETSRUN podcast voicemail/text line.
Want a 2nd podcast every week? And savings on running shoes? Join our Supporters Club today and get all the LetsRun.com content, a second podcast every week, savings on running shoes, and a lot more. Cancel at anytime. https://www.letsrun.com/subscribe
Check out the LetsRun.com store. https://shop.letsrun.com/ We've got the softest running shirts in the business.
Thanks for listening. Please rate us on itunes and spread the word with a friend. There is a reason we're the #1 podcast dedicated to Olympic level running.