2023 Bold Predictions + the 2022 LRC Track and Field Trivia Quiz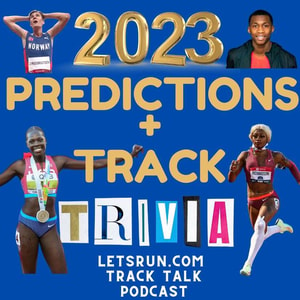 5 months ago
Happy New Year!
We start with a quiz of the 2022 Track and Field year before discussing New Year races and Grant Fisher's big 2022.
Then we turn to our Big Bold Predictions at 65:02. First we look back at our predictions for 2022 before turning to our predictions for 2023.
Are you a sports fan? Do you not want people snooping on your internet traffic? Start your New Year's off by getting a VPN and be sure to use the VPN we at LetsRun use. Try NordVPN today. Go here for a 30 day trial. https://www.letsrun.com/vpn
Show notes:
00:35 NordVPN the VPN of LetsRun
01:40 2022 Track and Field Trivia Quiz
22:59 FBI calls Rojo
24:26 Some big New Year's races and a new star?
29:14 Grant Fisher's Amazing 2022
35:19 Ethiopian cross champs Gidey doing Worlds
38:21 The Wild Duck closing in Eugene
45:24 The crazy Mahiedine Mekhissi retiring
53:18 Houston half and marathon fields out - could the American record(s) fall again? Tirunesh Dibaba returns
65:00 Bold Predictions for 2023
01:05:02 Reviewing our bold predictions for 2022
01:08:53 Jon bold prediction #1 (Men's 1500)
01:11:55 Wejo bold prediction #1 (Sha'Carri Richardson)
01:15:39 Rojo bold prediction #1 (Boston Marathon)
01:19:02 Jon bold prediction #2 (US half marathon)
01:22:18 Rojo bold prediction #2 (Men's 200)
01:23:53 Wejo bold prediction #2 (Max Siegel)
01:24:38 Jon bold prediction #3 (Men's 1500 at Worlds)
01:32:28 Wejo bold prediction #3 (Hobbs Kessler)
01:34:18 Rojo bold prediction #3 (Athing Mu)
01:38:27 What are you most excited about in 2023?
Contact us: Email podcast@letsrun.com or call/text 1-844-LETSRUN podcast voicemail/text line.
Want a 2nd podcast every week? And savings on running shoes? Join our Supporters Club today and get all the LetsRun.com content, a second podcast every week (the Friday 15 - which is usually much more than 15 minutes), savings on running shoes, and a lot more. Cancel at anytime. https://www.letsrun.com/subscribe
Check out the LetsRun.com store. https://shop.letsrun.com/ We've got the softest running shirts in the business.
Thanks for listening. Please rate us on itunes and spread the word with a friend. There is a reason we're the #1 podcast dedicated to Olympic level running.
Find out more at http://podcast.letsrun.com
Send us your feedback online: https://pinecast.com/feedback/letsrun/aee2cddf-ea94-4a1b-b6bf-c741936a75f2
This podcast is powered by Pinecast.