Guest Paul Chelimo + Centro and Webb and Trump Honor Jim Ryun + Who is the Olympic 100m Favorite?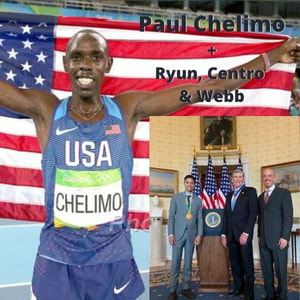 6 months ago
2016 Olympic 5,000m silver medallist Paul Chelimo joins us at 54:05 to talk about his amazing career, his rivalry with Lopez Lomong, not being scared, racism, his start in running, doping in Kenya and a whole lot more.
Prior to that the LRC crew talks about the party they attended for Jim Ryun getting the Presidential Medal of Freedom from Donald Trump attended by Matthew Centrowitz and Alan Webb and then they break down all current running news. Full show notes below.
Shhhh: Become a Founding Member of the LRC Supperters Club (and get a special gift if you follow the instructions in the podcast).
Show notes:
0:58 Fargo Marathon cancelled but XC racing in Connecticut
1:45 LRC Founders Club Special for Podcast listeners (you have to listen to find out).
5:33 LRC & Jim Ryun & Matthew Centrowitz & Alan Webb & Presidential Medal of Freedom
15:12 Who is the Olympic 100m favorite? Trayvon Bromell is really back 9.90.
22:40 Shaunae Miller-Uibo 10.98
24:59 Elijah Manangoi gets whereabouts suspension
32:10 New shoe rules
36:34 No Rojo Shelby Houlihan's career isn't better than Matthew Centrowitz's + Fast miles by Elle Purrier and American women
45:39 London Marathon 2020!?
48:45 Monaco 2020 get excited now!
54:05 Paul Chelimo big talk
Support LetsRun.com's Track Talk by donating to their Tip Jar: https://tips.pinecast.com/jar/letsrun
Find out more at http://podcast.letsrun.com
Send us your feedback online: https://pinecast.com/feedback/letsrun/b4bb219c-3372-4279-9b7a-71144872b29e