Biggest Winners and Losers from Worlds + Devon Allen's Agent Paul Doyle (Guest), Fake Josh Kerr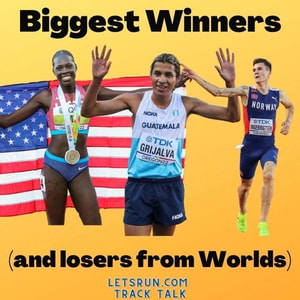 10 months ago
The Worlds delivered on the track and we break down in more detail the winners and losers from the 2022 World Athletics Championships.
Then @ 53:34 we are joined by Devon Allen's agent Paul Doyle to get an update on Allen's ridiculous DQ at Worlds and what is next for Allen as the Philadelphia Eagles training camps started today.
Show notes below.
Major thanks to Coros for sponsoring our $200,022 Worlds Prediction Contest. If you're looking for a performance GPS watch, Coros is for you. It's the watch of Eliud Kipchoge, Emma Coburn and hopefully you. Coaches - Coros has a training hub that can help you take your team to the next level. https://coros.com/
Looking for a VPN to take your track and field viewing to the next level or secure your internet traffic? NordVPN is the VPN of LetsRun.com. More details here.
Show notes:
3:07 Where's Jonathan Gault?
4:45 Major Props to Luis Grijalva for finishing 4th at Worlds in the 5000m
7:30 Rojo's Biggest Winner at Worlds - European distance running
9:04 Jakob Ingebrigtsen says he's a 5k runner (full video here) + he'd run the 10k and steeple if it was feasible
14:57 Message Board Post of Week by Thoughts Leader explains why no one pushed the pace in the 5,000m: Cheptegei/Barega/Kiplimo... TERRIBLE MISTAKE --- !!!!
18:10 Wejo's Biggest Loser of meet - stereotypes
20:01 Biggest loser #1 - Selemon Barega (and Ethiopian men on track)
20:47 Biggest Winners #2 - Everyone who repeated at Worlds
24:57 Biggest Winner #3- US men's sprinters
29:51 Will Noah Lyles be a footnote in history? Erriyon Knighton at 2028 Olympics will be younger than Noah Lyles is today
30:10 Biggest Losers #2 - US distance runners not named Athing Mu
34:16 Biggest Loser #3 - Track Town USA for the lack of sellouts in Eugene
41:18 Rojo Rant on Max Siegel - Not a lot of planning on USATF's part. They scheduled a press conference with Tommie Smith and John Carlos on 40 minutes notice.
47:11 Voicemail from Fake Josh Kerr - a class act in defeat, has great advice for high schoolers
50:08 Brief Monaco DL talk
53:34 Agent Paul Doyle with a Devon Allen update
Contact us: Email podcast@letsrun.com or call /text 1-844-LETSRUN . We love playing listener voicemails.
Join our Supporters Club and take your running fandom to the highest level. Get all the LetsRun.com content, a second podcast every week, savings on running shoes, and a lot more. https://www.letsrun.com/subscribe
Check out the LetsRun.com store. https://shop.letsrun.com/ We've got the softest running shirts in the business.
Thanks for listening. Please rate us on itunes and spread the word with a friend. There is a reason we're the #1 podcast dedicated to Olympic level running.
Got any feedback for us? You can leave it here too https://pinecast.com/feedback/letsrun/b7f59a0c-7bd3-485f-ae91-eb455f441a76