Kerr Dodges Jakob, Mo Farah's hangs them up, tanking at HYPs, another USATF lawsuit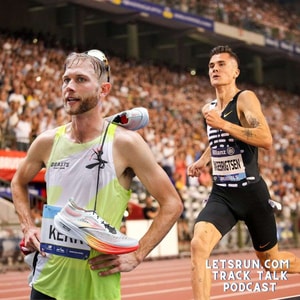 14 days ago
Thank you for your support. The Diamond League final heads to the Prefontaine Classic. Jakob will be doing the double, but he won't be facing Josh Kerr who dominated the 5th Avenue Mile yet pulled out of the DL final.
We have a new WR in the road 5k and mile, have some tanking in college cross country, and a lot more to talk about.
Want the inside scoop from Pre? Join the Supporters Club for at least one bonus podcasts from Pre and big savings on running shoes.
DL Final prediction contest here.
Show notes:
00:00 Start
02:04 NFL banter
03:52 Jakob gets 2k WR, will do mile/3k at Pre
10:32 Could Jakob get world record in mile?
14:44 Josh Kerr dominates 5th ave and pulls out of DL final
18:25 SC only audio on Appearance Fees
22:12 When should DL final be?
30:20 Prefontaine schedule
33:27 Can Grant Fisher be a factor at Pre?
36:18 Who gets wild cards?
48:07 SC free beer policy
51:45 Mo Farah runs his final race. How good was he?
01:06:38 Princeton tanks the Harvard Yale Princeton meet
01:21:04 World road 5k and 10k record by
01:26:54 Message board post of week
01:32:19 USATF board member Jim Estes suing USATF
Contact us: Email podcast@letsrun.com or call/text 1-844-LETSRUN podcast voicemail/text line.
Want a 2nd podcast every week? And savings on running shoes? Join our Supporters Club today and get all the LetsRun.com content, a second podcast every week, savings on running shoes, and a lot more. Cancel at anytime. https://www.letsrun.com/subscribe?from=public
Check out the LetsRun.com store. https://shop.letsrun.com/ We've got the softest running shirts in the business.
Thanks for listening. Please rate us on itunes and spread the word with a friend. There is a reason we're the #1 podcast dedicated to Olympic level running.