Klecker FURIOUS w Kincaid? Monson American Record, NCAA Indoor Preview, Tokyo Marathon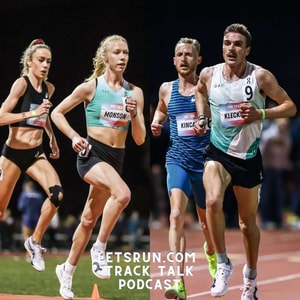 3 months ago
Alicia Monson crushed the American 10,000m record but was beaten by Eilish McColgan, but we start with 30 minutes on the men's race and Joe Klecker vs Woody Kincaid and the thread: Klecker FURIOUS with Kincaid. Is there a controversy? Is a race more than about winning?
Then we turn to the Tokyo Marathon and Cam Levin's (2:05:36) Canadian and North American record, plus the depth of the Japanese, and Betsy Saina of the US becoming the 8th fastest American ever with her 2:21:40.
We then preview the NCAA meet where the Washington men will be going for history in the mile, 800 U20 phenoms (Will Sumner, Roisin Willis, Michaela Rose, and Juliette Whittaker) could make history and we fully expect Katelyn Tuohy to leave with 2 more NCAA titles.
Then, we end with Euro indoors. Is Jakob Ingebrigtsen just good or arrogant?
(Show notes with timestamps below)
Say Goodbye to the Safety Pin (Sponsored) BibBoards.com NO PINS - NO HOLES - NO MAGNETS - NO PRICKED FINGERS This "Snap & Lock" technology gets rid of safety pins for your race number. The cleanest and greenest way to the finish line. Reusable from event to event and customizable. Save 20% with code LETSRUN.
Want a 2nd podcast every week? And savings on running shoes? Join our Supporters Club today and get all the LetsRun.com content, a second podcast every week (the Friday 15 - which is usually much more than 15 minutes), savings on running shoes, and a lot more. Cancel at anytime. https://www.letsrun.com/subscribe?from=public
Contact us: Email podcast@letsrun.com or call/text 1-844-LETSRUN podcast voicemail/text line.
Contact us: Email podcast@letsrun.com or call/text 1-844-LETSRUN podcast voicemail/text line.
Check out the LetsRun.com store. https://shop.letsrun.com/ We've got the softest running shirts in the business.
Thanks for listening. Please rate us on itunes and spread the word with a friend. There is a reason we're the #1 podcast dedicated to Olympic level running.
Find out more at http://podcast.letsrun.com
Got any feedback for us? You can submit it here. https://pinecast.com/feedback/letsrun/bb593308-1cf0-4be5-9a63-10ef6a8ca281
This podcast is powered by Pinecast.