(Bonus) Cory McGee From Doha Before Diamond League Opener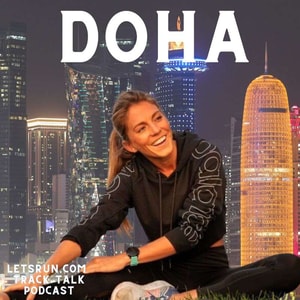 4 months ago
48 hours before the Diamond League opener in Doha, American Olympic miler Cory McGee joined us from Doha to talk about her expectations, her goals for 2023, her success with Team Boss, and a lot more.
Our talk with Cory is 24 minutes and after it we have included our regular weekly LetsRun.com Track Talk podcast.
Show notes below.
If you want our Doha Recap show, you need to be a Supporters Club member. Join today https://www.letsrun.com/subscribe to get a bonus podcast every week and big savings on running shoes and support independent pro running journalism.
Show notes:
00:00 Cory McGee Intro
01:49 Cory McGee Interview- Why Doha?
07:31 What are goals for Doha and for year?
13:59 Diamond League $ and logistics
17:55 Going to a new level with Team Boss
26:30 Regular Podcast
27:57 Start
29:10 Mark Zuckerberg 19:34 5k
36:03 Villanova wins 4x Mile at Penn!
40:24 Penn audio
47:27 UVA has 7 sub 4 minute milers + another high school sub 4
53:42 Josette Andrews impresses
59:41 Colin Sahlman impresses
01:04:58 Botswana Golden Grand Prix - 19-year-old Letsile Tebogo
01:06:37 Which teenage sprint phenom would you rather be? Tebogo, Erriyon Knighton, or Issam Asinga?
01:17:56 Gabby Thomas runs 49.68 in 400
01:23:10 Diamond League season opens Friday in Doha
01:23:40 Women's steeple- Coburn and Val Constein
01:28:12 Clayton Murphy in 800 after 1:45 in Botswana
01:34:39 Women's 100 The race of the meet- Sha'Carri vs Shericka vs Dina
01:37:26 Men's 3000 is Loaded, Can Girma challenge Komen's WR?
01:42:31 Men's 200- Michael Norman vs Fred Kerley
01:45:20 Women's 1500 - Faith Kipyegon +Cory McGee
01:48:14 Would you rather have Eliiud Kipchoge race Evans Chebet in NY or Kelvin Kiptum in Berlin?
Contact us: Email podcast@letsrun.com or call/text 1-844-LETSRUN podcast voicemail/text line.
Want a 2nd podcast every week? And savings on running shoes? Join our Supporters Club today and get all the LetsRun.com content, a second podcast every week (the Friday 15 - which is usually much more than 15 minutes), savings on running shoes, and a lot more. Cancel at anytime. https://www.letsrun.com/subscribe
Check out the LetsRun.com store. https://shop.letsrun.com/ We've got the softest running shirts in the business.
Thanks for listening. Please rate us on itunes and spread the word with a friend. There is a reason we're the #1 podcast dedicated to Olympic level running.
Find out more at http://podcast.letsrun.com
Send us your feedback online: https://pinecast.com/feedback/letsrun/cf2e159e-94a4-459e-8e0a-944c73a625fc
This podcast is powered by Pinecast.