Athing Mu Talks Legacy & Retirement? Brazier's Surgery, Kenya Doping Raid? Camille Herron WR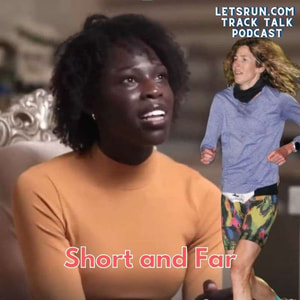 2 months ago
Who said nothing happened last week?
1.5 hours of running entertainment. First "Breaking News" about a possible drug bust in Kenya gets speculation going on what Zane Robertson should do.
We discuss Emily Sisson pulling out of London, have more on Donavan Brazier's injury, and then discuss Athing Mu on the Pivot Podcast. She's a superstar at age 20, but talks a possible early retirement and how she has almost quit the sport a few times.
A few comments on World Athletics making women's sport female sport, and then we discuss Supporters Club member Camille Herron's 48 hour world record.
Say Goodbye to the Safety Pin (Sponsored) BibBoards.com NO PINS - NO HOLES - NO MAGNETS - NO PRICKED FINGERS This "Snap & Lock" technology gets rid of safety pins for your race number. The cleanest and greenest way to the finish line. Reusable from event to event and customizable. Save 20% with code LETSRUN.
Show notes:
08:29 Should Zane Robertson be jailed? Doping Raid in Kenya? *Thread
19:05 Emily Sisson out of London - Which is stronger Boston women or London?
28:01 Sara Hall raising money for Ethiopian orphans *link
32:09 Email of Week on Donavan Brazier's surgery
44:35 Athing Mu speaks on NFL podcast about modeling, legacy, retirement, wanting to quit sport 3 times and a sense of community at Texas A&M *link
52:46 (Audio) Athing Mu on desire to model
55:42 (Audio #2) When might Athing retire
01:07:12 Texas Runner and Nikeman have twins!
01:09:16 World Athletics makes women's sport, female sport - new DSD, transgender rules
01:14:21 Praise for Francine Niyonsaba
01:19:18 Camille Herron smashes 48-hour world record
Want a 2nd podcast every week? And savings on running shoes? Join our Supporters Club today and get all the LetsRun.com content, a second podcast every week, savings on running shoes, and a lot more. Cancel at anytime for a refund. (Use code CLUB25 to save 25%) https://www.letsrun.com/subscribe?from=public
Contact us: Email podcast@letsrun.com or call/text 1-844-LETSRUN podcast voicemail/text line.
Check out the LetsRun.com store. https://shop.letsrun.com/ We've got the softest running shirts in the business.
Thanks for listening. Please rate us on itunes and spread the word with a friend. There is a reason we're the #1 podcast dedicated to Olympic level running.
Find out more at http://podcast.letsrun.com
Send us your feedback online: https://pinecast.com/feedback/letsrun/d95959a2-4229-4a9d-bf04-fb84ee380491
This podcast is powered by Pinecast.