Newbury Park & Teen Phenoms, Shelby Houlihan Time Trial, Molly Seidel Bumble Match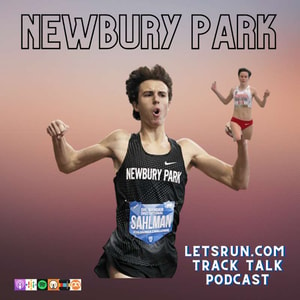 11 months ago
The pros (Noah Lyles, Grant Holloway, Gabriela Debues-Stafford, Adel Machaal) brought it at the New Balance Indoor Grand Prix but 3 high schoolers from Newbury Park may have stolen the weekend as Colin Sahlman ran 3:58 and beat some pros, Lex Young ran 7:57, and Aaron Sahlman 8:01.
We break down all the action, have Gabriela Debues-Stafford's comments on Shelby Houlihan, Pete Julian talking about PPV track, and then discuss the most important issue on LetsRun.com today- Molly Seidel's Bumble match.
Are you a big track and field fan? Join the Supporters Club the most exclusive club in running. Get a 2nd podcast every week, LetsRun.com exclusives, and right now 20% off running shoes. https://www.letsrun.com/subscribe?from=public
Show notes:
23:43 Hobbs Kessler update
27:56 Is Noah Lyles back?
34:56 The rib injury is back - Bryce Hoppel
37:43 Gabriela Debues-Stafford impresses on and off the track + Shelby Houlihan comments
47:09 Shelby Houlihan 4:03 1500m
54:13 Grant Holloway not disappointed with an Olympic medal
58:52 Will Sumner #2 800 time by a high schooler indoors
62:08 Pete Julian's comments on time trialing, PPV streaming, and races paying more prize money
75:16 Molly Seidel's Bumble match - Rojo will pay $5,000 if they race in a 100m
Contact us: Email podcast@letsrun.com or call 1-844-LETSRUN and hit option 7 for the secret podcast voicemail.
Join our Supporters Club and take your running fandom to the highest level. Get all the LetsRun.com content, a second podcast every week, savings on running shoes, and a lot more. https://www.letsrun.com/subscribe
Check out the LetsRun.com store. https://shop.letsrun.com/ We've got the softest running shirts in the business.
Thanks for listening. Please rate us on itunes and spread the word with a friend. There is a reason we're the #1 podcast dedicated to Olympic level running.
Support LetsRun.com's Track Talk by contributing to their tip jar: https://tips.pinecast.com/jar/letsrun
Find out more at http://podcast.letsrun.com
Send us your feedback online: https://pinecast.com/feedback/letsrun/e16fd0b1-a57a-437a-ad86-5c78afd6ab85
This podcast is powered by Pinecast.