Greatest London!? Sifan Hassan GOAT? Kiptum > Kipchoge? High Schooler Beats Noah Lyles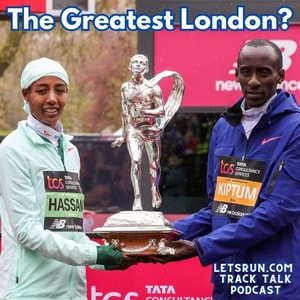 5 months ago
Issam Asinga Ran 9.83
What a London Marathon! Sifan Hassan battled back from the dead to get an unbelievable win. Does this make her the female GOAT?
Kelvin Kiptum put up a performance that would make Eliud Kipchoge blush, with a 59:45 2nd half. Could it be too good to be true? Plus sponsorship controversies, the top Brit getting his training advice from LetsRun.com and everything London.
High schooler Issam Asinga ran 9.83 to blast Noah Lyles in a 100 and then talked some smack on instagram.
Show notes:
00:00 London Marathon recap pod
04:48 The Greatest London Marathon ever?
06:05 Sifan Hassan gets dropped, stops, yet wins London (great highlight video here)
15:38 Nearly run over by Motor bike
21:49 Is Hassan the GOAT?
30:43 The men's race - Kelvin Kiptum wow! 2nd fastest marathon ever, 59:45 2nd half
37:07 Kiptum's run - amazing or too good to be true?
01:03:21 Final London notes: Kamworor is back, Emile Cairess 1st Brit,
01:10:20 Eilish McColgan sponsorship dispute *article
01:18:19 Mo Farah's final major race 2:10:28
01:20:27 Oregon Relays 4 x mile World Record Attemp with Centro Goes up Way Short
01:32:25 Katelyn Tuohy gets beat by Koko
01:34:59 High schooler Issam Asinga runs 9.83w beats Noah Lyles and then talks smack on instagram
01:46:58 Kelvin Kiptum and Rojo's sub 3 hour attempt
Contact us: Email podcast@letsrun.com or call/text 1-844-LETSRUN podcast voicemail/text line.
Want a 2nd podcast every week? And savings on running shoes? Join our Supporters Club today and get all the LetsRun.com content, a second podcast every week, savings on running shoes, and a lot more. Cancel at anytime. Thanks to everyone who signed up last week! https://www.letsrun.com/subscribe
Check out the LetsRun.com store. https://shop.letsrun.com/ We've got the softest running shirts in the business.
Thanks for listening. Please rate us on itunes and spread the word with a friend. There is a reason we're the #1 podcast dedicated to Olympic level running.
Find out more at http://podcast.letsrun.com
Send us your feedback online: https://pinecast.com/feedback/letsrun/e2fb655b-efc8-4356-be9d-ecc04651c8c6
This podcast is powered by Pinecast.