Phenoms & Busts, Emily Sisson AR, Diamond League Kickoff and Track and Field Superfan Derek Rubis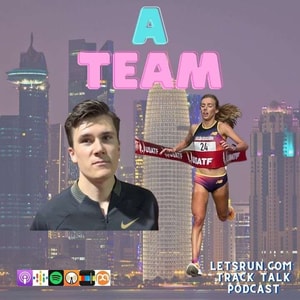 1 month ago
The Diamond League kicks off in Doha on Friday with the return of Donavan Brazier. Jakob Ingebrigtsen got a nice 5k win in America and had some interesting comments afterward on teen phenoms and the Olympic letdown.
Emily Sisson's assault on the roads got her the American half-marathon record, will the full marathon be next?
Track and field super fan Derek Rubis joins us at 79:25 to talk about his battle with cancer, the state of the sport, share some words of inspiration, and make a bold, bold prediction.
Show notes below:
Compression Boots Without the Wires! Therabody RecoveryAir JetBoots The next generation in recovery. Free 60-day money-back guarantee trial. Exclusive FastFlush technology, RecoveryAir flushes out metabolic waste more fully and brings back fresh blood to your legs at three times the speed of competitors. https://www.therabody.com/letsrun to try today. (Sponsor)
Train smarter this summer Join the LetsRun.com Summer Training Program. Free for Supporters Club members. Details here https://www.letsrun.com/coaching
Softest running shirts in the business. Check out the LetsRun.com store. https://shop.letsrun.com/
Join the most exclusive club in running - The LetsRun.com Supporters Club (the club that pays for itself). Get all the LetsRun.com content, a second podcast every week, savings on running shoes, and a lot more. https://www.letsrun.com/subscribe
Show notes:
2:37 "B" team season is over - Diamond League starts Friday
4:53 Sound Running 5k - Jakob Ingebrigtsen delivers, Abdihamid Nur NCAA record?
17:58 Jakob's post-race comments on the Olympic let down (podcast Wejo talked about here)
24:33 Jakob's comments on Newbury Park - "13:40, 13:20. That's nothing compared to the bigger picture"
25:32 Struggling ex phenoms- not all excel as pros Lawi Lalang, Edward Cheserek, Drew Hunters all struggling
28:45 Rojo says Drew Hunter is done
31:39 Kip Keino Classic - Marcell Jacobs pulls out - was he really sick? Ferdinand Omanyala upsets Fred Kerley
41:19 Should Kenya host a Worlds?
45:26 Allie Wilson world leader continues strong year for Atlanta Track Club
48:40 Emily Sisson breaks American record in half marathon. Will she get marathon record next?
55:49 Jon rants about USATF Half Marathon champs being thinly promoted
58:12 Cooper Teare solos the World Standard. Is he the US 1500m favorite?
63:34 Message board thread of week: How many Americans will join sub 13:00 5k club in next 3 years?
68:57 Pro Thursday Night Track and Field on ESPN2 from Puerto Rico - Elaine Thompson-Herah headlines
70:47 Diamond League Doha preview- Donavan Brazier's 1st 800 since Olympic Trials, stacked men's 1500, a lot, lot more
79:25 Track and field super fan - Derek Rubis, aka The Hub of Distance Running on his battle with cancer, the current state of track and field and more.
Contact us: Email podcast@letsrun.com or call/text 1-844-LETSRUN.
Check out the LetsRun.com store. https://shop.letsrun.com/ We've got the softest running shirts in the business.
Thanks for listening. Please rate us on itunes and spread the word with a friend. There is a reason we're the #1 podcast dedicated to Olympic level running.