Nuguse FTW, Monson 14:19, American medal chances, Chicago Marathon LOADED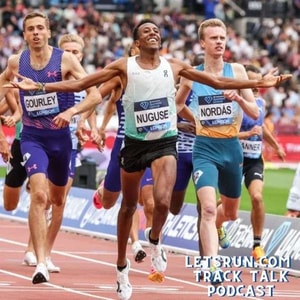 2 months ago
Yared Nuguse became the first American male to win a Diamond League 1500 since 2011 as he got the big win in London as his OAC teammate Alicia Monson got the American record in the 5000 by running 14:19. Noah Lyles ran super fast, but barely won.
Friday in Monaco Faith Kipyregon obliterated the women's mile world record as Nikki Hiltz got the American record.
After these big wins and fast times, which Americans have the best chances to medal in the distances.
The Chicago Marathon fields are out and Kelvin Kiptum will be in Chicago, could he get the world record? Ruth Chepngetich and Sifan Hassan will square off on the women's side while Emily Sisson could lower the AR.
Show notes below
Founders Day Special. Save 50% on your 1st year of the LetsRun.com Supporters Club. Use code GOAT50 https://www.letsrun.com/subscribe
Show notes:
00:00 Save 50% on Supporters Club memberships with code GOAT50 https://www.letsrun.com/subscribe
01:05 Banter
06:27 Yared Nuguse wins 1500 in London
21:27 Cole Hocker 3:32.14 13th place
27:12 Women's 5000: Alicia Monson 14:19 American Record: Gudaf Tsegay takes down Sifan Hassan
33:44 Who would you rather be Monson or Cranny?
48:59 Faith Kipyegon 4:07 World Record Mile
55:57 US distance medal chances at Worlds
01:00:31 1500s - Nuguse, Hocker, Hiltz
01:05:52 Steeples - Coburn?
01:08:32 5000s - Monson? Nur? Cranny? Chelimo?
01:13:49 10000s
01:16:12 Marathon -D'Amato
01:18:32 Noah Lyles 19.47 vs Tebogo 19.40 in London
01:27:55 50,000 Fans in London
01:32:17 Andy Bayer sponsored, Eric Holt not
01:39:04 Letsrun.com/shoes
01:39:45 Chicago Marathon fields out- Could the world and American records go down?
01:39:56 Kelvin Kiptum to Chicago
01:46:49 Molly Seidel's chances
01:52:12 Post of the week: re: Allie O says she's not okay, going through immense stress but can't tell us why yet
Links: Good Threads: re: Why does Nuguse..
Contact us: Email podcast@letsrun.com or call/text 1-844-LETSRUN podcast voicemail/text line.
Want a 2nd podcast every week? And savings on running shoes? Join our Supporters Club today and get all the LetsRun.com content, a second podcast every week, savings on running shoes, and a lot more. Cancel at anytime. https://www.letsrun.com/subscribe
Check out the LetsRun.com store. https://shop.letsrun.com/ We've got the softest running shirts in the business.
Thanks for listening. Please rate us on itunes and spread the word with a friend. There is a reason we're the #1 podcast dedicated to Olympic level running.
Send us your feedback online: https://pinecast.com/feedback/letsrun/e9222db6-e650-4553-9cec-77b7ab695883