Deena Kastor: Greatest American Female Distance Runner of All-Time GOAT Podcast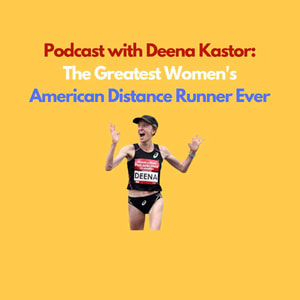 2 years ago
Recently the LetsRun.com visitors voted US marathon record holder Deena Kastor as the greatest US women's distance runner in history. To mark the occasion, we invited Deena to be on our podcast. Before we could have her on, however, she told us she wanted to answer questions from the fans on our messageboard which she did last week. Her responses were amazing so check it out now if you haven't read it.
https://www.letsrun.com/forum/flat_read.php?thread=9994777
While you are reading things, read this piece we did on Kastor early in 2007 after she finished her amazing 2006 season during which she set US records in the half-marathon and marathon.
https://www.letsrun.com/news/2020/04/lrc-visitors-vote-jim-ryun-denna-kastor-as-the-greatest-mens-and-womens-american-distance-runners-of-all-time/
The podcast is sponsored by TheFeed.com. They've got everything you need to perform at your best and try and stay healthy. LetsRun.com co-founder Weldon Johnson just got his goody back and is pumped. They have a new product - BLDG Active's Anti-microbial Face and Hand Spray which is a medical-grade solution you can take with you to spray on your hands and face. Go to TheFeed.com/Letsrun for more info and use code LETSRUN to save 15% off your entire order.
Show notes:
0:01 Deena talks about her start in the sport and how she struggled with being labeled as "talented."
3:02 Deena talks about how she viewed herself as a failure in the sport but how that all changed once she got with coach Joe Vigil.
9:06 Deena talks bout her college career, how she was running just for gear when she got out, and how she was thrilled to eventually get $12,000 a year, but how that's all changed now for new college grads thanks to the "Alan Webb" effect.
13:40 Deena talks about her American records and how she's thrilled Molly Huddle broke her half marathon record as she knows Huddle is clean.
21:05 Deena talks about her amazing success in xc.
27:07 Deena talks about what it was like to have Ryan Hall and Meb Keflezighi as teammates and others like Morgan Uceny.
30:01 The talk turns to Deena's amazing 2005 Chicago Marathon victory where she as on 2:18 pace but totally blew up and only won by 5 seconds and her amazing 2016 season during which set American records in the half and full marathons, but a season during which she was sent home from her training camp for being a 'primadonna' and one which she called a disappointment at the time.
38:06 Deena talks about why the roads are her favorite surface
41:28 Deena talks about why she'd love to on a run with Abebe Bikila and why she thinks Joan Benoit Samuelson is the greatest women's American distance runner ever.
45:44 Deena talks about her favorite American runners of today.
50:38 The conversation turns to doping and how Deena responds when people ask if she was dirty. Deena reveals a story about how she was disgusted to see everyone puffing on an inhaler before her first big European track race.
61:31 We finally talk about Deena's Olympic bronze in the marathon
63:41 Deena tells us what she views as her greatest accomplishment and tell us how she wants to break 2:30 in Berlin next year.
Got audio feedback for the show? Fake Galen Rupp where are you? Call 844-LETSRUN (844-538-7786) and hit option 7.
More: https://www.letsrun.com/events/letsrun-coms-greatest-american-distance-runner-of-all-time/
Support LetsRun.com's Track Talk by contributing to their Tip Jar: https://tips.pinecast.com/jar/letsrun
Find out more at http://podcast.letsrun.com
Send us your feedback online: https://pinecast.com/feedback/letsrun/ee034794-615e-452a-abd3-8e113007dda5