Mega Pod - Pete Julian (Guest), Andrew Colley (Guest) - USAs, Lilac and Dreams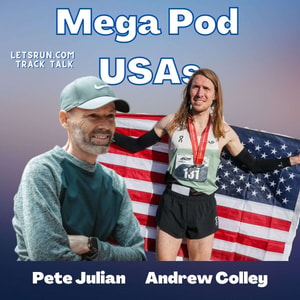 8 months ago
We've got a mega pod for you today as after breaking down the USA Cross Country Championships, an Aussie 16-year-old sensation, and Sha'Carri Richardson getting booted off a flight we've got 2 guests.
First, Nike Union Athletics Club coach Pete Julian joins us at 92:24 to talk about this weekend's Lilac Grand Prix, a World Athletics Silver Label meet he is hosting (viewing info here), and to give us an update on the UAC and Donavan Brazier, Raevyn Rogers and Jordan Hasay. Plus he issues a challenge to Team New Balance.
Then, Andrew Colley of Zap Endurance joins us at 2:23:49 and is our Where Your Dreams Become Reality athlete of the week after he finished 2nd at the USA XC Championships to make Team USA after 8 years in the running wilderness. What kept him living the dream and what's next in store for him?
Show notes below
Want a 2nd podcast every week? And savings on running shoes? Join our Supporters Club today and get all the LetsRun.com content, a second podcast every week (the Friday 15 - which is usually much more than 15 minutes), savings on running shoes, and a lot more. Cancel at anytime. https://www.letsrun.com/subscribe
Are you a sports fan? Do you not want people snooping on your internet traffic? Start your New Year's off by getting a VPN and be sure to use the VPN we at LetsRun use. Try NordVPN today. Go here for a 30 day trial. https://www.letsrun.com/vpn
Show notes:
02:27 Start - Leo Young audio clip
07:22 Devon Allen/Julien Alfred runs NCAA 60m record
10:18 USA Cross - Junior Races Leo Young and Irene Riggs impress
13:30 Pro races - Emmanuel Bor wins, confusion reigns supreme on 10k qualifying for Worlds
30:40 Flashback to 2007 USA XC in Boulder *it was nuts
33:30 Women's race - Ednah Kurgat FTW
41:40 Ritz explains why OAC 10k runners are skipping World XC
58:43 Nico, Leo & Lex's Mom Places 33rd in Masters Race +Thread of Week *link
01:00:41 Great post by Peter Bol's coach Justin Rinaldi link All his posts here
01:02:24 The top American at World Cross will finish in ___ place
01:08:30 Jakob 2.0? 16-year-old Aussie Cameron Myers runs 3:40 1500m
01:15:02 World Athletics floats new DSD/Transgender rules
01:22:29 Sha'Carri Richardson gets booted off a flight
01:32:24 Guest Pete Julian - Union Athletics Club coach
01:33:10 Stop chasing times / track is changing with new world ranking / qualifying system
01:42:55 Noah Kibet's status on the team
01:45:32 Raevyn Rogers and Donavan Brazier update
01:49:03 New signings to UAC - Michaela Meyer, Mckenna Keegan, David Ribich
01:59:32 Jordan Hasay update
02:02:49 The highlights of the 2022 Union Athletics Club season was...
02:04:01 Pete issues challenge to New Balance team
02:11:54 The sport needs more races that matter and not people chasing times
02:17:49 How do you beat Athing Mu at 800 meters?
02:20:52 How to watch Lilac Grand Prix
02:23:49 Andrew Colley - Where Your Dreams Become Reality athlete of the week
02:28:12 Popliteal artery entrapment syndrome
02:31:42 2020 Olympic Trials DNF- what happened? Did he think of quitting?
02:37:00 What's changed in 2023?
02:40:04 Goals for World XC, Rotterdam Marathon, 2024
02:44:28 Why did he keep living the dream?
02:45:41 Zap Endurance looking for a new sponsor
Contact us: Email podcast@letsrun.com or call/text 1-844-LETSRUN podcast voicemail/text line.
Check out the LetsRun.com store. https://shop.letsrun.com/ We've got amazingly soft running shirts.
Thanks for listening. Please rate us on itunes and spread the word with a friend. There is a reason we're the #1 podcast dedicated to Olympic level running.
Find out more at http://podcast.letsrun.com
Send us your feedback online: https://pinecast.com/feedback/letsrun/ee30660b-f49d-4897-8157-038e4a241cf4
This podcast is powered by Pinecast.