Worlds Day 5: Josh MF Kerr GOLD, Jakon Silver Again, Nuguse 5th, Hocker 7th, Coburn Injury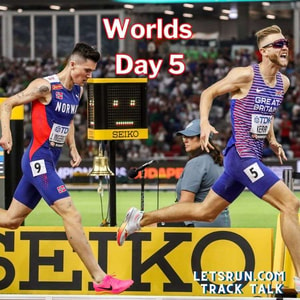 1 month ago
It happened! Josh Kerr won gold and Jakob Ingebrigtsen was relegated to silver for the 2nd year in a row as Narve Nordas got the surprise bronze. We break it all down including Yared Nuguse's 5th place finish, Cole Hocker's 7th place, and Niels Laros' 10th place.
Plus Athing Mu raced at Worlds, Emma Coburn ran with an injury and more.
First 18 minutes for everyone but then you need to be a Supporters Club member to hear the rest. Use code CLUB25 to save 25% https://www.letsrun.com/subscribe?from=public
Show notes: 0:00 Fake Josh Kerr audio
01:57 Josh Kerr World 1500 champion
13:01 Kerr audio #1
14:20 Josh Kerr audio #2
17:00 Is Jakob just vulnerable in Championship races?
18:27 Jakob says he wasn't 100%
(Rest for SC members) https://www.letsrun.com/subscribe?from=public
20:30 Jakob closed pretty well (Josh was just better)
23:19 Nordas / Jakob tension
25:15 Nordas post-medal workout
28:22 What should Jakob do in Paris?
30:57 Josh Kerr said he started eating healthier, lost 10 lbs
39:14 Kerr's coach Danny Mackey dealing with family tragedy
47:44 Grades for the Americans- Yared Nuguse and Cole Hocker
57:50 Women's 400/ Men's 400 hurdles
01:00:11 Athing Mu raced at Worlds! Nia Akins
01:08:10 Hassan kicks by Kipyegon in 5k prelim- why?
01:09:05 Emma Coburn injury, Natosha Rogers Marathon Trials
01:11:51 Tie in women's pole vault
Contact us: Email podcast@letsrun.com or call/text 1-844-LETSRUN podcast voicemail/text line.
Want a 2nd podcast every week? And savings on running shoes? Join our Supporters Club today and get all the LetsRun.com content, a second podcast every week, savings on running shoes, and a lot more. Cancel at anytime. https://www.letsrun.com/subscribe?from=public
Check out the LetsRun.com store. https://shop.letsrun.com/ We've got the softest running shirts in the business.
Thanks for listening. Please rate us on itunes and spread the word with a friend. There is a reason we're the #1 podcast dedicated to Olympic level running.